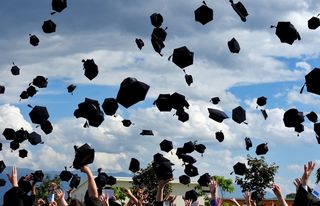 High School Graduation; few moments are as meaningful or memorable. A day to reflect, rejoice and remember. A milestone worthy of a remarkable ceremony.
Here are a few tips to help you make your ceremony extraordinary.
Involve the Graduates
Every graduate has someone in the audience watching, cheering and shedding a tear. Involve more students in the ceremony and share the pride!
Recruit two or three (or more) students to do a commencement speech. Assign each of them a theme to keep it interesting. (You may want to put a 5 or 10 minute time limit on their speech too- for the sanity of the audience)
Speech Themes:
2 speakers – looking back, looking forward
3 speakers – past, present, future
4 or more speakers – memories, dreams, stumbling blocks, successes etc.
Pick a Graduation Theme
Giving your graduation ceremony a theme gives it character, and makes the memories special. Your program will mean so much more with a great theme. You can coordinate your decorations, songs and speeches to correlate.
Graduation Themes:
Moving on
Looking back
Memories
Follow your dreams
Contributing to the world around you
A Great song can enhance your theme or be the basis of your theme.
Graduation song ideas:
Graduation – Forever Friends
School's Out
Decorate
Fill your space with celebratory decorations in festive colors or school colors.
Decoration Ideas:
Helium filled balloons in school colors
Banners congratulating the graduates
Posters or decorations relating to your theme
Display student projects such as art, photography, woods and metals
Capture The Moment
Even with all those cameras in the audience, it's difficult at best to capture the exact moment a grad receives their diploma. Why not do those parents a favor and have a photographer present to snap a photo of each graduate in their moment. Better yet recruit a "photography" student or teacher from within the school!
Start a New Graduation Tradition
There is no rule that says you have to follow old traditions. Go crazy and start a new tradition!
New Ideas:
Invite a "surprise" guest speaker; a local celebrity, news anchor or alum that's made it big, even a parent or sibling of a graduate would add an interesting perspective.
Gather photos, possibly from yearbook staff, of the students over the years, turn them into a slide show to be displayed throughout the ceremony.
Have a wild & wacky finale to your ceremony- possibly one or more select students get to shave a teacher or principals head (think perfect attendance, perfect GPA, or most frequently in detention). Maybe a group of students choreographs a funky line dance and performs it, or perhaps change the words to a popular song and sing it. Get the students involved in planning, they are sure to have some great ideas.
It's Their Moment
At a recent grad ceremony I attended the entire school district was asked to participate.Teachers that taught the kids from K-12th grade were dressed in gowns and marched in ahead of the graduates. After circling the auditorium, they formed two rows, sort of a tunnel. As the students walked through there were many hugs & high fives. It was very moving. There wasn't a dry eye in the crowd.
Whatever you do to celebrate and honor your graduates, make it all about them. This is their moment. Make it a wonderful memory for them!
What are your favorite graduation memories or traditions?