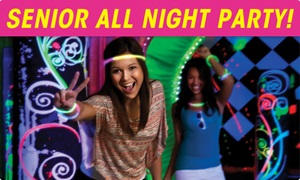 Planning a Senior All Night Party
You've taken the first step and volunteered to help plan the Senior All Night Party.
The task seems daunting. But breaking it down into simple steps can make the whole process easier for you and more organized for all involved.
Form a committee. Reach out to parents, focus on the benefits of such an event, and really try to get some level of participation from every parent.  You may need volunteers for:
Planning the event
Fundraising for the event
Working at the event
Donating to the event (Parents may have businesses or work at companies that can donate services or products. Make sure to take advantage of those connections.)
Generating donations from the community (services, products and prizes)
Split your planning committee into teams. Each team will be responsible for planning their area and making it happen, assigning volunteers and seeing it through the event.
Invitations
Decorations
Prizes
Food
Games
Take advantage of the online tools available to help you;