Crowning Homecoming royalty is a tradition at many high schools, but that doesn't mean coronation has to be totally traditional. Think outside the tiara and change up your Homecoming coronation a bit with fun and modern twists that match your school's style.
Check out these fun and fresh ideas for your Homecoming and Prom royalty:
• Fedoras For the King's Court!
Want to keep your king traditional? Put him in a classic crown. Then, deck his court out in cool royal style with ultra-modern fedoras!  It's a great way to mix traditional style with trendy flair. The guys will love how awesome they look.
• Light-up Homecoming Accessories!
You want your Homecoming royalty to stand out. What better way to shine the spotlight on them than with fun light up accessories, like crowns, tiaras, fedoras, and sashes? They are perfect for a glow theme or at the dance when the lights are low. Get everyone else in on the action as well by handing glow accessories, like necklaces and glow sticks at the pep rally, game or dance.
• Design-it-Yourself Sashes!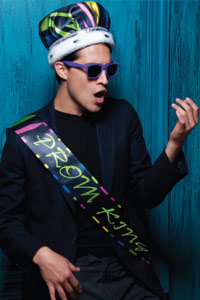 Sashes are popular Homecoming royalty accessories. Add a fun new look by designing your own sashes that perfectly match your Homecoming theme. Choose a coordinating background and add your custom text to create a fun keepsake your court will love!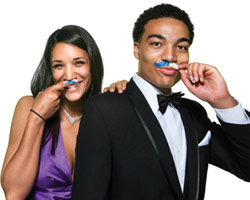 • Mustache Mania!
Mustaches are everywhere! Embrace the trend by incorporating mustaches into your Homecoming coronation traditions. Choose a mustache theme and add a mustache graphic to your full-color crowns and sashes. Be sure each member of the royal court (including the girls) has a stick-on mustache to wear during coronation. Take it one step further by handing out mustache favors at the game or dance.
• Homecoming Royalty T-shirts!
Have your royalty and/or royalty candidates design their own T-shirts to wear during coronation and the game. Be sure to have plenty of fabric paints, markers, sequins, feathers, glitter, and more on hand, so teens can get creative with their tees.
Homecoming is all about your school and your students. Start some fun new traditions that complement your old favorites for a personalized experience your teens will always remember.
Get ready for Homecoming by downloading our Free Ultimate Homecoming Guide (PDF) now.
What are some of your school's Homecoming traditions or traditions you would like to start?