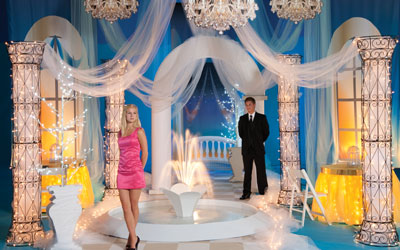 Fine mesh netting is a versatile decorating material your school can use for Homecoming, Prom, Winterfest, Senior Party, graduation banquets, and so much more.
Here are three popular ways to use netting for your next school event. Once you've got these down, get creative with your netting and come up with even more ways to decorate with this sheer, lightweight material.
1. Cover up drab walls with netting.
Pleat your netting along gymnasium walls to cover them. You can also create a wispy looking drapery effect. Or try creating 72″ wide stripes of different colors along your walls.
2. Use netting to create window treatments.
Drape netting around windows and use ribbons for ties. Or cut thin strips of netting in several different colors and tie them around the top bar to create a curtain-like effect.
3. Dress up arches and lampposts with netting.
Netting is fine and fairly light, so it won't weigh down your Prom and Homecoming arches and lampposts. Twist it around your kits to add texture to your decorations.
Feel inspired? Order netting for your school event today!