A Gatsby party is all about excess and being over the top. From your Gatsby Prom theme decorations to your Prom favors, your school can throw an over the top, out of this world Prom night that your students will never forget.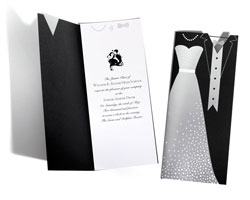 Set the Tone with 1920s Invitations
The right Prom invitation will get your kids super excited for Prom 2014. There are quite a few invitations that fit a 1920s Gatsby party. Consider one of these: a Fancy Evening Invitation, a Dapper Gent Invitation or a Black Formal Romance Invitation. Be sure to choose the perfect invite to fit your school's 1920s theme.
Fancy Themes for Your Gatsby Scene
Once you have your invitations picked out, choose from these Gatsby-friendly Prom themes such as It Had to Be You, The Roaring 20s, or Classique Magnifique) as a starting point for your 1920s decorations. Then add some finishing touches so you have an extra-nifty Prom night.
Spiffy Touches for 1920s Décor
If you don't already have it, use checkerboard background paper to create a snazzy 1920s dance floor. Add black and white murals like a classic cars or dancing silhouettes to decorate your Prom walls. Use red and black fabric like streams of gossamer, tulle and netting to create depth and drama to your theme.
Swell Ideas for '20s Prom Favors
Prom favors for a 1920s Gatsby theme should be simple and elegant with a little bit of bling. Try some of these ideas for your custom Prom favors:
All Dolled Up for Prom Night
Your students' gowns and tuxedos may be twenty-first century fashions, but they can add all sorts of accessories to create a 1920s look. Stock up on tiaras, fedoras, crowns, aviator sunglasses, and much more for your Prom night. Students will

love dancing in them or using them for their photo opps. Ask volunteers and chaperones to dress the part in full 1920's costumes.
Cut A Rug (aka Dance All Night)
Sneak some 1920s songs into your DJs Prom playlist. Some popular '20s tunes are Rhapsody in Blue, It Had to Be You, Stardust, Puttin' On the Ritz, Mack the Knife, or 'S Wonderful.
Roaring 20s Rhetoric
Research and hand out flyers with 1920s slang before Prom. Your students will love the vintage phrases, especially if you offer a prize on Prom night for whoever uses the slang words the best.
Get started on planning your Gatsby Prom theme today. Browse andersons.com to find all the favors, decorations, and supplies you need.