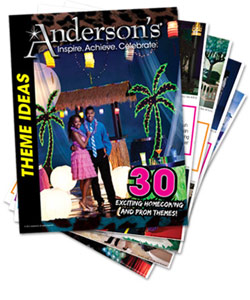 So, you've been chosen the 2014 Prom advisor for your school. If you feel overwhelmed with all the decisions that need to be made, relax. Anderson's has lots of online resources to help you navigate those, sometimes rough, Prom waters.
Go to our Online Resources section to get all our online Prom freebies:
• Prom Planning Guide
• 30 Homecoming and Prom Theme Ideas
• Prom Planning Checklist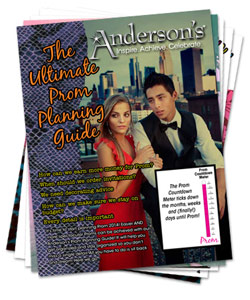 • School Store and Fundraising Guide
• Event Budget Sheet
Don't forget to sign up to receive our emails to get hot deals and ideas.
Check out these links, too:
http://www.pinterest.com/andersonsHS/
Our Pinterest page features a number of fresh and fun ideas for Prom and fundraising and we'll be adding new ideas throughout the season.
http://prom.about.com/od/partyplanning/a/promcommittee.htm
This about.com tool is one of the ultimate Prom checklists for Prom ideas.
http://www.pinterest.com/hannahgerrie/prom-planning-ideas/
Gives you lots of unique Prom decorating ideas.
http://www.youtube.com/watch?v=S4P0STcCrDw
This video features two students with helpful Prom planning tips.
This is a fun site with ideas for your Prom committee. There are also lots of links with helpful info for boys and girls.
Start shopping for Prom today.