Engaging students, both new and old, is a huge goal of college student activities departments at every college and university. An engaged student (though it has many different definitions) is essentially someone who is emotionally and psychologically engaged in school. They're eager, motivated and inspired to achieve their best work. One of the best way to engage students is through the use of student activities throughout the year. As your student activities department is planning your activities for the school year, here are five fun activity ideas for you:
1. Cause events. Students who feel a sense of community with each other and their campus are more engaged and cause events are a great way to unite the student body. Social responsibility is more popular than ever and when people come together over a common cause they create a special bond that increases student engagement. Host an event on campus like a Pink Out event, a Movember mustache-themed event or any other cause event. If there's a local cause you can support that's even better.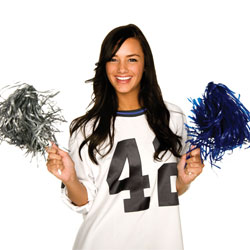 2. Homecoming. College Homecoming is one of the biggest events of the school year and and one of your biggest opportunities to build school pride. Almost all students participate in Homecoming in some way so you can really make an impact on the entire student body. Fill your Homecoming celebration with a variety of events like a spirit week, special lunches or dinners, a pep fest, a dance, a parade, tailgating or musical events.
3. 5k Run. Health and fitness are a huge focus on college campuses. Get your students moving with a 5k run. Not only does an event like this engage students but it's also a way for you to promote fitness and health on your campus. Make your fun run more unique by setting a cool theme, giving away fun prizes, supporting a local charity or having students run in costumes. Get your faculty and staff involved too and have a competition between college departments to see what department can get the most runners to complete the run.

4. Free Seminars. With the skyrocketing cost of university tuition, holding a free seminar is a fantastic way to show students you care about their well being and to give them a chance to learn something new and exciting. And with the number of faculty you have on campus you have virtually an unlimited amount of topics you can give seminars on. Free seminars are a great way for students from different colleges to learn something they might not learn otherwise. General seminars like How to Find a Job, Dressing for Success, Networking Tips and  Tips for Losing Weight and Staying Fit During College are popular topics. And your college professors don't always need to be your presenters. Ask student leaders, alumni or adjunct professors to present based on their real-world experience.

5. Arts and Craft Show. Sites like Pinterest and Etsy are all the rage these days so have your own creative arts and craft show on campus. Chances are your campus is crawling with artsy students or students who've learned to be creative on a tight budget. Have a fun arts and craft show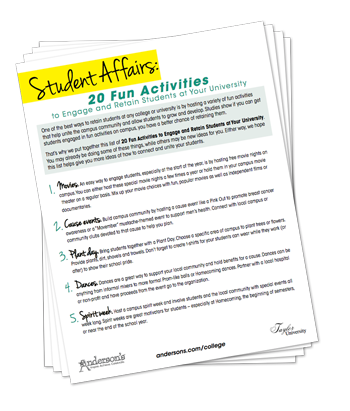 with students signing up for booths to showcase their work. You can even proceeds from the event from a local charity. It's a fun way to get your students engaged on campus and in the community.
Get more ideas for ways to engage students at your university through events. Download our free article on 20 Fun Activities to Engage and Retain Students at Your University now.
And check out our website full of products for college student activities like Homecoming.
What are some other events you use at your school to engage students?