Start your Prom out right by creating and sending out the perfect Prom invitations. Here are 7 tips to help you create amazing invitations:
1. Match your theme. This may be the best tip we can give you about Prom invitations. Your Prom theme is what will get students excited to attend. Choosing a Prom invite that matches you're theme, whether it's a casino, Paris, a 1920s design or something else, can really pump up excitement.
2. Get samples to see what you like best. There is nothing better than seeing invitations firsthand. Take advantage of our Sample Program to view the textures, colors, and quality before you order your favorite.
3. Order invitations early. Being organized and ordering invites early will ensure you get your first choice of Prom invitations, and gives you plenty of time to approve all the proofs so they are perfect for distributing.
4. Add a finishing touch. Some Prom invites come with a ribbon, but you can purchase ribbons, bows, or confetti separately and add them to invitations for a little extra elegance and pizazz.
5. Match your Prom tickets to the invite. Choose a set of Prom tickets to match your invitation. Many times you can also get matching Prom tickets that can be customized with the same imprint design and/or text to coordinate with your specially chosen invitations.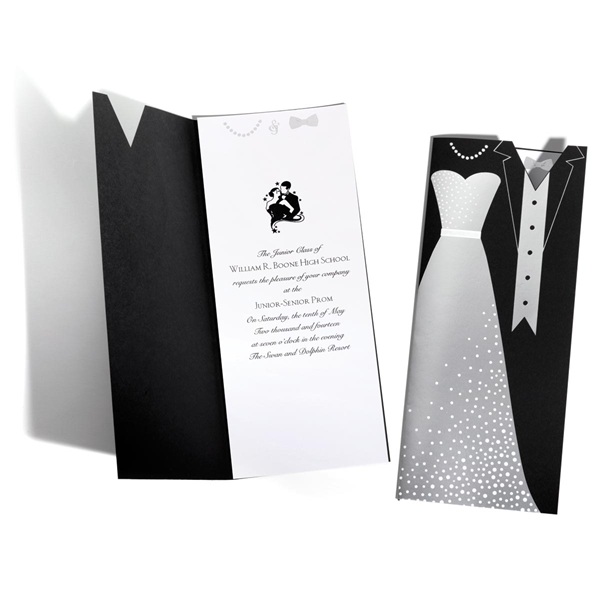 6. Get a team of students to help assemble the invitations. Once you have received your Prom invites, assembly and distributing will go much more smoothly with a big group of student volunteers doing the busywork.
7. Add envelope details. Use fairly cheap stickers that match your Prom theme to seal your envelopes or affix stickers to the front side of the envelope as colorful embellishments.
By using these seven simple tips, choosing, ordering, and assembling invitations will be a snap.
Shop Prom invitations now.