The best Prom decoration ordering tips come from the people who know: Prom Advisors, Prom Committee members, teachers, and parent volunteers. They have been through the Prom planning process before—and have learned a thing or two along the way. Based on customer feedback, we have created a list of the top 5 things you need to know to order decorations for your Prom.
Tip #5: Know the Rules of your Prom Venue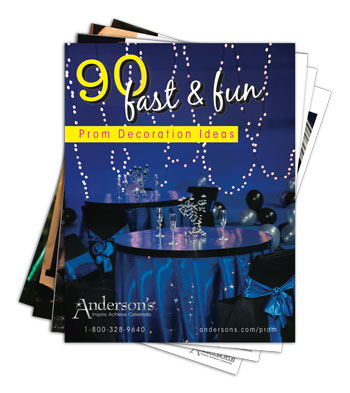 So many Prom Committees have experienced this problem: They have their Prom theme picked out and their decorations in hand. They're ready to go, except for one thing: Their Prom venue doesn't allow them to tape anything to the walls or sprinkle confetti on the floor. There goes their whole decorating concept. Many venues have rules about what can and can't be done on premises, so find out what the rules are. In advance. And plan accordingly.
Tip #4:  Order Decorating Supplies Needed For Assembly
This seems like a no-brainer, but it's super important—and easy to forget. The best Prom decorations in the world won't do you any good if you can't assemble them, hang them, or display them properly. Think of assembly supplies, like tape, glue, thumbtacks, magnet movers, paint and paintbrushes, as the behind-the-scenes workhorses that keep your Prom decorations front and center all night long.
Tip #3: Order Everything From One Place
You don't have time to run around looking for Prom decorations in a million different places; you have more important things to do. Getting all your décor from one place is a great way to save time and money, too. Plus, you have the advantage of dealing with the same people if something goes wrong with your order or you have questions. ­
Tip #2: Order Extras
Despite all your careful planning and attention to detail, something unexpected could happen, so it's always a good idea to order a few extra Prom decorations—just in case. You never know when that extra roll of gossamer or one more set of centerpieces could make the difference between disaster and Prom perfection.
And the #1 Prom Decorating Tip: Order Early!
Imagine: You find the perfect decorations to go with your Prom theme and when you try to order, you discover they are out of stock or won't arrive until after your Prom date. That means more work and more time coming up with Plan B. The solution: Order your decorations as early as possible. Make as many decisions as you can as quickly as you can, so you can get your order in before the big Prom rush. The items you want are more likely to be available, and you'll be sure to get them in plenty of time for the big event.
Get more Prom decorations ideas – download our free PDF 90 Prom Decorations Ideas now.
What is your best Prom decorating tip?