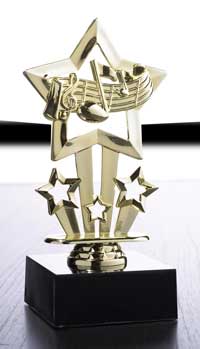 The end of the school year is the perfect time to single out your students for exceptional academic, artistic, and athletic achievements. Handing out awards at a year-end awards banquet not only provides student recognition, a banquet is also a great way to motivate your students so they keep up the great work for the next school year, be it high school or college. We've put together ten easy steps to help you plan your year-end school awards banquet.
1. Establish your budget. A budgetary plan will determine where you hold your awards banquet, choice of menu, decorations, and type of awards and invitations. If you have ample time to do so, you can approach local businesses for monetary donations in exchange for an ad your awards program.
2. Determine the date of your awards banquet. Make sure to schedule your banquet at a convenient time. Consult with your school's Prom committee and/or Senior Party committee so all of these important dates do not overlap.
3. Choose a venue. Customers have told us they save money by holding their year-end award banquets in their school gymnasium and/or cafeteria. If you choose to hold your banquet offsite, make sure the facility meets your needs and has adequate parking for your students and their families.
4. Choose a menu. Your menu choices will be determined by your budget and how casual or formal you want your awards banquet to be. Off-site venues may offer catering services you can use. If your banquet will be held at your school, you will need to hire an outside catering service. No matter what your menu is, don't forget to include a vegetarian option for those who do not eat meat.
5. Send out invitations. This is a vital detail for your award banquet. Invitations will include RSVPs that will let you know how many people will be attending. Knowing the number of attendees determines how many dinners, tables, and, perhaps, awards that you need. Invitations can be casual or formal, depending upon your needs.
6. Draw up a seating arrangement. Creating a visual seating arrangement and assigning students, parents, and staff to tables will help you stay organized. This can also eliminate the 'chaos' of students wanting to sit with their friends.
7. Plan the program. Your awards banquet program can be a simple outline with the sole purpose of being a tool for your planning committee, or you can create a formal printed program. Printed programs can be great mementos of the evening. Important details to consider are presenters, keynote speakers, entertainment, the order of the awards, sponsor ads, and how long each presentation will be.
8. Order your awards. Depending upon your budget, awards can range from the traditional trophies and certificates, to ribbons, medallions, pins, gift cards, electronics, and more. Be sure to order awards a month in advance–especially if you need custom awards–to allow plenty of time for their arrival.
9. Plan and order decorations. Don't overlook the décor of your awards banquet space. Decorations can range from table covers, table skirts, and centerpieces to big, dramatic balloon arches and wire structures.
10. Create a schedule for the day of your awards banquet. Make sure you have ample time to decorate, arrange tables, test the sound system, speak to the caterers and wait staff, arrange your awards in order of presentation, be sure any stairs are well lit, and other last minute details.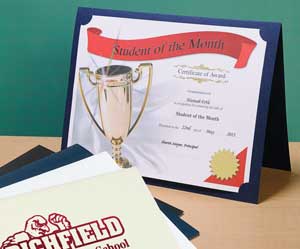 What are you planning for your year-end awards banquet. Let us know!