Over the years, high school students have used popular movie songs as inspiration for their Homecoming theme and Prom theme. Just like time changes, so do the trends. These days students use an entire movie as their Prom or Homecoming theme. We've put together a list of our twelve favorite films for decorating inspiration.
Gatsby themes for Prom and Homecoming are VERY popular right now. Mix and match elements from our Classique Magnifique, The Roaring '20s, and It Had to Be You themes to create a classy 1920s Gatsby-style theme for your next school event.
2. Frozen 
This immensely popular animated movie is a cool idea (pun intended) for your Homecoming or Prom theme. You can have a lot of fun embellishing your decorations themes like Frozen in Time and Forever Frozen Night with snowflakes, crystals, and more
2. Hunger Games
Base your theme on this popular dystopian movie series. Have fun with the mockingbird and fire symbols in our Playing with Fire theme. This is an easy idea to embellish with creative ideas of your own.
3. Alice in Wonderland 
Mix kits from our Tea for Two and A Walk Through Wonderland theme to create your own unique twist on the classic Alice in Wonderland movie.
Okay, this a category, not one movie, however, animated movies are timeless ideas for a Prom or Homecoming theme. Mix and match decorating kits from our different themes to create an underwater paradise for a Little Mermaid theme. Or mix and match Arabian decorations for an exotic Aladdin theme. Of course, Cinderella has always been a popular idea. It's easy to find castles and fairy tale elements from many of our complete themes.
5. Avatar
This grand-scale science fiction adventure movie is a unique idea for your theme. Use our complete Welcome to Pandora theme to recreate that magical world for Prom night.
6. Avengers
This is an out-of-the-box idea that students will love. Combine kits from our Heroes of the Night theme with cityscape elements from our New York, New York theme to create your own take on Gotham and its popular superheroes.
7. Night at the Museum
Bring some 'culture' to your Prom or Homecoming with a museum theme based on the popular movie A Night at the Museum. From Greek statues to a T-Rex, you can create your very own museum with unique photo ops students will love.
8. Titanic
This popular '90s movie is an ambitious choice for your theme. Use our My Heart Will Go On theme as a starting point for decorating ideas! Then incorporate other nautical decorations.
Zombies are still very trendy, and it's a very unique idea for a Homecoming or Prom theme; one that students will never forget! Check out The (Un)Dead of the Night theme for decorating ideas, and get your creative zombie juices flowing.
10. Chicago
This fun musical from the early '00s is still a great idea for a theme–and it comes with a soundtrack of fabulous songs to dance to like All That Jazz and Razzle Dazzle. Use kits from All That Jazz, Prom Night Premiere, The Roaring '20s, or A Touch of Class for an amazing Chicago-based theme.
11. Ocean's Eleven
This popular casino film can be the basis for your Prom or Homecoming theme. You could even work your school name into the title (e.g., Springfield's Eleven). Mix and match elements from our variety of casino themes to create your own unique theme.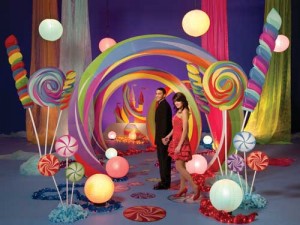 12. Charlie and the Chocolate Factory
Everybody loves this candy-themed movie, and it's a great excuse for a candy-filled Prom or Homecoming theme. Use our Sweet Dreams theme as the foundation for your candy theme.
Do you have any other movie ideas for Prom or Homecoming? Let us know.