Many colleges and universities celebrate Homecoming sometime during the first few months of school, This time of year is filled with fun and excitement, school pride, and lots of school traditions, as alumni return to their alma mater. Whether you want to enhance some of your current Homecoming traditions or start new ones, here are some fun ways many colleges and universities pump up school spirit and increase student engagement during Homecoming season:
Spirit Week
Plan at least one spirit-related event each day during the Homecoming Week. Be sure the events are diverse enough and at convenient times, to maximize participation.
Banner painting contest on the quad
Sorority/fraternity house decorating contest
5K race
Campus picnic
Pep rally
Coronation/Homecoming Court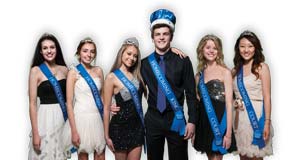 Crowning Homecoming royalty is tradition in many colleges and universities. Go formal with a King, Queen, Princes and Princesses, all decked out in royal finery, or go casual by putting your royalty in sashes and school T-shirts. When should you crown your Homecoming royal court? That's up to you. Some options are:
before the game, so royalty can ride on the float
at the game during a special halftime event
at the beginning of the week, so royalty can participate in all the fun events
Tailgate Party Before Game
To increase attendance at the game, consider hosting a tailgating party in the parking lot or field beforehand. This will bring everyone together in one place and generate tons of excitement for the game and your school. Plus, free food almost guarantees a large turnout.
Alumni Events
The whole point of Homecoming is to allow alumni to come back "home" for a fun week of festivities, culminating in the big game. Many schools host special events for their alumni all week long, to keep them involved and engaged in everything that's happening at their former school. Try some of these fun ideas for alumni events:
Alumni Banquet
Alumni Section at Game (Encourage the wearing of school colors)
Alumni Band (have them join the current marching band in the parade and at the game)
Alumni Court/Coronation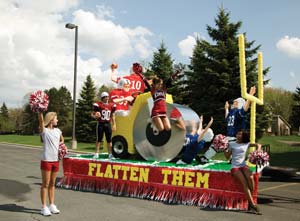 Homecoming Parade
Many colleges and universities have a Homecoming parade before the game, to get everyone excited and ready to watch their team win. Often, the campus sororities and fraternities, as well as other campus clubs and organizations create floats for the parade. If you have already crowned your Homecoming royalty, design a float especially for them, too. Be sure to include the football players, cheerleaders, marching band and school alumni in the parade.
Choosing a Theme
While choosing a formal theme for Homecoming is more popular in high schools, where there is a dance after the game, it is a fun tradition for colleges and universities to embrace as well, but maybe not in the same way. Choose a theme that encompasses the vibe of your school or that promotes school pride. Create your float around the theme, and use it in decorations and promotional materials. Some ideas:
a line from your school's fight song!
a play on your school's mascot (e.g. Wild With Pride)
a play on your opponents' mascot (e.g. Burn Up the Bears)
a movie tie-in (e.g. There's No Place Like Homecoming)
Wearing School Colors
An easy and very effective way to display school pride all over campus during Homecoming week is by wearing school colors. Designate a "school color" day and encourage all students, faculty, and alumni to deck themselves out in your school colors. For maximum impact, have everyone gather on the quad or football field wearing their colors. Take a picture to include in yearbooks, orientation materials, alumni websites and more.
Bonfire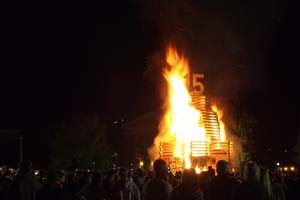 This is a fun Homecoming tradition everyone will love. Host a giant bonfire the night before the game, and invite students, faculty, staff, and alumni to attend. This is a casual way for everyone to get to know each other better and to pump up school spirit and get everyone excited for the game. If your school is near the beach, have your bonfire there. Otherwise, a large field will do just as nicely. Offer traditional bonfire food, like hotdogs and s'mores. Be sure to check your local fire regulations beforehand, to ensure safety.
Add some fun, new ideas into your Homecoming festivities this year, and next year, they will be well on their way to being long-standing and beloved Homecoming traditions for your school.
 What are some of your school's Homecoming traditions? Share with us now.