College students want to make a difference in their communities and world but often don't have the time or resources to do so. Offering ways to do this on campus makes it easy for students to be socially responsible and keeps student engagement high. Homecoming is a great time to host campus events that foster social responsibility. During Homecoming, students are pumped with school and community pride, and alumni are back in town, so participation will be at an all-time high. Here are a few fun things you can do to incorporate social responsibility into your Homecoming events"
 1. Cause Events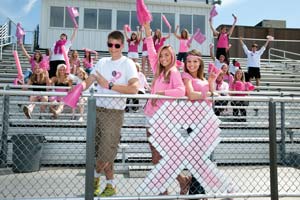 Uniting for a cause event keeps students engaged with each other and with the world around them. Many campuses choose to do fun events, like 5K runs, car or bicycle washes, cook-offs, and student vs. alumni games, to raise money and awareness for special causes. Here are a few causes and their colors you can use as a jumping off point to plan your campus events:
Breast Cancer Awareness (pink)
Child Abuse, Bullying (blue)
Diabetes (gray)
Alzheimer's Disease (purple)
AIDS, substance abuse (red)
Violence Against Women (white)
Soldier Support, Suicide Prevention (yellow)
 2. Charity Drives
Charity drives are easy ways for college students to make a difference in the community without spending a lot of time and money. Whether you are collecting food (ramen noodles gladly accepted) for a local food shelf, gently used clothes for a women's shelter, or blood for your nearest Red Cross center, you'll find that students and faculty will be more than willing to participate to help others in need. Be sure to let budget-conscious students know that no donation is too small and that a donation of a few hours time to work the event is also greatly appreciated.
 3. Organize A Community Service Day
Help students get started on a lifetime of volunteering by organizing campus-sponsored community service days. Homecoming week is often a busy one around campus, so you might have better turnout if you plan community service days at other times throughout the year. Here are a few ideas:
 Adopt-a-Highway
Serve meals at homeless shelters
Tutor or mentor younger children
Plant a Campus Garden
4. Recycling Events
Go green for Homecoming Week by hosting campus-wide recycling events where you collect everything from cans, glass and plastic, to old appliances and hazardous waste (like paint and oil). Recycling is an easy way for students to make a big difference in their community, and it won't cost them any money.
 5. Campus Cookout For Charity
Food brings people together, so what better way to unite your students, alumni and faculty for a great cause than with a campus-wide cookout fundraiser. Talk to local restaurants about donating burgers or hotdogs and other picnic food for the event. Then, set up grills on the quad and get some volunteers to do the cooking. For a small (student budget-size) price, let everyone partake in all the yummy goodness. Donate all proceeds to your chosen charity.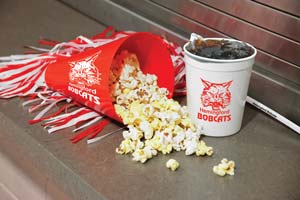 6. Concessions For A Cause
One of the easiest ways students can raise money for community causes AND show their school pride at the same time is by doing what they do anyway: Buying concessions at the game! Donate proceeds from all food and spirit items sold at concession stands during the Homecoming game to your favorite charity or cause. Hang a banner outside the stadium or concession stand to let students know what cause their purchases will go to support.
Keep student engagement high by uniting your campus during Homecoming with fun events that promote social responsibility and citizenship.
How do you promote social responsibility at your College or University? Share with us now.