Finding a job is the #1 goal of most college students after graduation, and networking is one of the most important things students can do to achieve that goal. But, many students lack the skills and resources to network successfully. There are so many things the Student Affairs Office or Student Activities Office can do to help students network on campus and form connections that will lead to success after graduation.
Formal Networking Events
One of the most important jobs of the Student Affairs or Student Activities Office on any campus is to coordinate and host specific events that are relevant to students' needs and provide information that can help them succeed. Here are a few ideas many schools use to help students network on campus: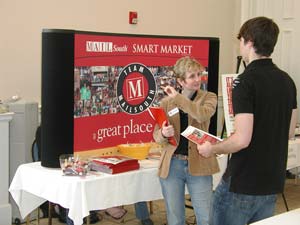 Career Fairs:
Many colleges and universities offer career fairs a few times a year. Career fairs are the most   efficient way to bring students and potential employers together. Whether students just want to learn about possible careers or they are ready to start hunting for a post-graduation job, a career fair is the perfect place for them to make the right connections in whatever field they are   interested.
Seminars/Classes
Hosting on-campus seminars, lectures, or classes on specific career topics is a great way for the Student Affairs Office to help students make the connections they need to succeed in their chosen fields. Ask alumni, faculty, and local business people to share their knowledge and expertise with students. Be sure to offer seminars at convenient times for students, and offer meet-and-greet sessions at the end, so students can ask questions and learn more.
 Student/Alumni Events
School alumni can be one of the most valuable resources current students can utilize to learn  about their chosen fields. Former graduates can provide real-world knowledge and give current students an edge when it comes to finding employment after graduation. Schedule several student/alumni events (picnics, brunches, etc.) throughout the year to give students and alumni a chance to connect.
 Web and Social Media
Social media is the easiest way to connect with your students and is the way students connect with almost everybody. Take advantage of this, and use social media and the Internet to help students network successfully on and off campus. Here are a few easy ways to do this:
 Twitter
Use Twitter to get the word out about networking events happening on campus. Also tweet news and information about various careers/fields to students who sign up to receive tweets.
Facebook
Facebook is a great way for students to connect with each other, alumni, and prospective employers and get news and information about campus events. Be sure your Facebook page current, and maintain it regularly.
 Linkedin
Linkedin is one of the most valuable social media tools students can use to maintain  connections with peers, alumni, and future employers. Be sure every student has a Linkedin account, and encourage them to use it regularly.
Alumni Websites
Many students don't think of your school's alumni website as a tool they can use to network, but it can be an important asset in a student's future job search. Put a link to the alumni website on your school's website or Facebook page. Encourage current students to browse alumni websites and connect with former students or alumni organizations that are relevant to their career choice.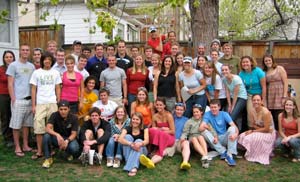 Casual Student Activities
Students learn a lot from each other, and sometimes other students are the best networking tools on campus. Have information on student groups, campus clubs, and organizations readily available in your office and on your website, so students can easily find groups that are relevant to their chosen field, hobbies, or interests.
Mentoring Programs
Never underestimate the power of a mentor. Not only are mentors advisors, cheerleaders and guides for their mentees, they are often also a "foot in the door" when it comes to students getting their first jobs out of college. Mentors know people, and knowing people is one of the keys to a successful career path. Set up a mentoring program at your school with alumni, current faculty, local business people, and others serving as mentors to students who want to have similar careers. Encourage them to meet regularly throughout the students' entire term and to stay in touch even after graduation.
Teaching students how to network, and providing them the opportunities to do so, will help ensure their future success in the job market and in life.
How does your school help students network on campus? Share with us now.