We're going to let this title speak for itself. The only thing we will say is that you can use any or all of these ideas for a big game like Homecoming or to promote any game and/or team sport throughout the year to increase attendance. Check them out!


Hand out items to wear. While some of the ideas presented here may seem like no-brainers, they are tried and true ideas that yield high results. Selling spirit wear (EyeBlacks, crazy fan hair, face paint, custom T-shirts, etc.) in your school store or for fundraisers are two of the most popular ways for students to express themselves and show their school pride.
Have your cheerleaders create a cheer-of-the-week/month. Not only is this a creative challenge for your cheerleading squad, your entire student body will reap the benefits because it will give them something to look forward to at the next game.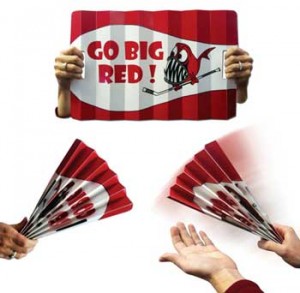 Hand out noisemakers. Nothing supports your school sports teams more than noisemakers like cow bells, megaphones, maracas, and stadium horns. They are all great ways to release school pride and energize the team to a win.
Get different grades to compete for a spirit stick. Bring this popular summer camp idea into your high school. Let every grade know about the competition and let them show their school spirit at a pep rally, game, or special school event. Prizes for the winning grade include a 10% discount in your school store, free snack at the concession stand, etc.
Get teachers and staff to dress up for the game. Set the ultimate spirit example for your students by having teachers and staff dress up for a big game and show off their school pride during the school day. Encourage them to wear crazy wigs, face paint, beads, and more.
Have a parade during halftime. This could be your secret weapon or a surprise idea. Announce that there will be a halftime parade for anybody that wants to show off their fan gear. Then, have students, community members and alumni walk onto the field to show off their spirit.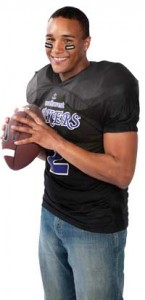 Plan a "Meet the Team" night. Get your community involved and engaged with your school. Organize a "Meet the Team" night so they can meet with all the members of the football team, basketball team, girl's hockey team, or other sport team. Not only does this give the community a chance to get involved, but it shows your school teams that people are behind them and will support them all the way to the state championships.
What other ideas do you have to help increase spirit in your school?