Homecoming isn't complete without an amazing, exciting, spirit-pumping Homecoming parade! Your parade is a big, rallying event that gets your whole student body involved, the local community involved, and revs up school pride for the big Homecoming game. Check out these 12 hot decorative ideas for parade floats for your Homecoming parade.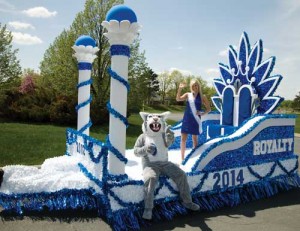 1. Royalty Float
Make sure your Homecoming King and Queen have their very own float in your Homecoming parade. A float with thrones will give them a chance to reign with lots of style!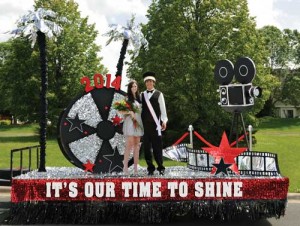 2. Hollywood Float
This is a great idea for your Homecoming King and Queen or Homecoming Court. With its red carpet look, it treats all of your Homecoming royalty like true celebrities.
3. Class Year Float
Create a parade float that prominently features the current graduating year. Your seniors will LOVE this float idea. Don't forget to create floats especially for your Junior, Sophomore and Freshman classes as well.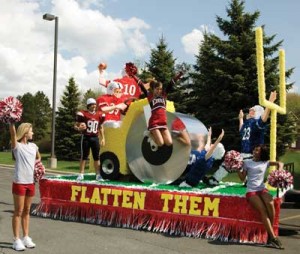 4. Flatten 'Em Float
Every Homecoming parade needs to have a float that features your Homecoming slogan. A "Flatten 'Em" float features a small steamroller flattening your competition.
5. Flush 'Em Float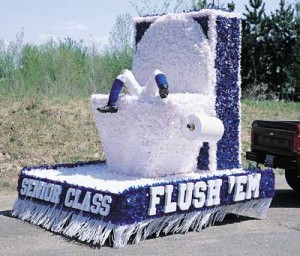 Another great idea for a parade float featuring your slogan is a "Flush 'Em" float. It certainly gets the point across quickly! Even if it's not your slogan, it's a unique addition that's sure to get some laughs from the crowd.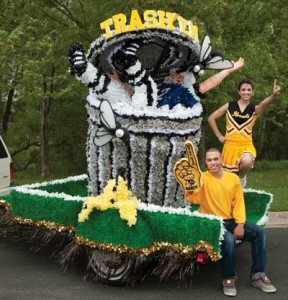 6. Trash 'Em Float
This fun parade float idea comes complete with fake flies to bring your Homecoming slogan alive. Make sure students don't engage in 'trash talking'–there are little kids in the crowd.
7. Toast 'Em Float
Another unique Homecoming slogan is "Toast 'Em." Kids and adults alike will get a kick out of the extra-large toaster and "toasted" football player.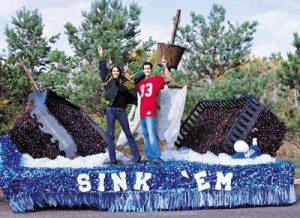 8. Sink 'Em Float
Create and display a massive shipwreck to show off your "Sink 'Em" Homecoming slogan.  You can also put a pirate spin on this–especially if your school mascot is a pirate!
9. Bury 'Em Float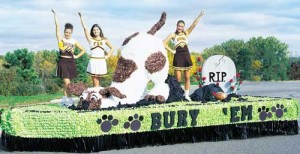 A parade that brings the popular "Bury 'Em" slogan alive is essential. Using a big puppy dog to illustrate the "burying" is a kid-friendly way to illustrate your Homecoming slogan.
10. Homecoming Float
Make sure your parade has a float that spells out "Homecoming" on the side. This float can feature float separates like a big paw, large #1, oversized megaphone, and more.
11. Fired Up Float
Put your school mascot in a "Fired Up" parade float to really rev up the crowd! Make sure this float is toward the end of your parade to really drive the point home.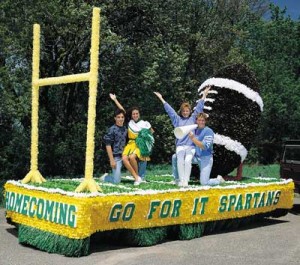 12. Football Float
The penultimate float in your Homecoming parade should be a football float. It's a simple concept, but that's what this week is mostly about: football. Decorate the float in your school colors and make sure your Homecoming slogan is listed on the side of the float.
Once you've decided on all of your parade float concepts, stock up on school spirit accessories (shakers, megaphones, foam rousers) and parade throws (candy, sport balls, coupons) for the crowd. These finishing touches will only add to the excitement.
What kinds of floats will your school include in your Homecoming parade? Let us know!