One of the most exciting things about planning Prom is choosing a Prom theme. You want a theme that is fresh and fun, and one that students will want to be a part of during their special evening. We've put together our top 10 favorite Prom theme ideas for 2015. Choose one of these Prom themes or use them as a jumping off point for a big brainstorming session with your Prom Committee.
Talk about a trendy idea! Of course, this Prom theme is based on the best-selling books and hit movies. A mockingjay theme is all about hot colors like reds, blacks, and oranges. Use lots of rich decorating fabrics and colored papers to create fake fires and flames for your Mockingjay Prom night.
2. 1920s/Gatsby/Ballroom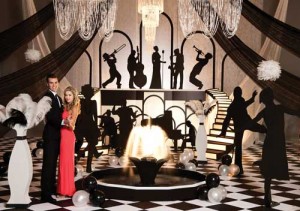 Gatsby and 1920s Prom themes were popular last year, and they are still a hot idea for Prom 2015. You can give them a fresh twist with a big band atmosphere or go black and white with a pop of color, like red or gold, for a really fancy 1920s ballroom theme.
This is another theme idea that was popular last year, and is even more popular this year. To make your Frozen winter wonderland Prom theme stand out, add some unique decorations to freshen up the idea. Try hanging rain lights from the ceiling, or filling a balloon net with white and light blue balloons and dropping them toward the end of Prom night.
3. Cinderella
This Prom theme idea is another classic fairy tale idea that could be very popular. With a live-action Cinderella movie scheduled to be released in March, you can be all ready for Prom night with lots of matching decorations, like castles and carriages.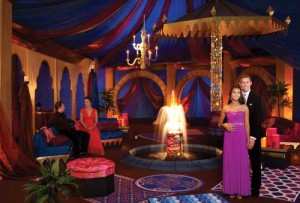 4. Bohemian
Bohemian Prom themes are a fun, trendy alternative to an Arabian theme. A bohemian theme can be amazing because it incorporates different colors and patterns you don't typically see at a Prom, including jewel colors and '60s and '70s-style patterns. Decorate with beads and floor pillows. Other ideas are to play gypsy music and hire a fortune teller.
5. Underwater
Prom themes that are set under the sea are always a great idea, and they are trending right now! Turn your Prom space into an underwater paradise with some exciting 2015 ideas. Create an Atlantis palace or give it a 20,00 Leagues Under the Sea twist with submarine machinery and gears and underwater monsters.
Prom 2015 themes are all about taking a traditional theme and giving it fresh, new face. If you want a Paris theme, turn it into a Moulin Rouge evening. Play songs from the movie. Give classes on how to the do the can-can, make sure you have a marquee and a windmill. You can have lots of fun with this idea.
7. Western
The past few years have seen the release of several western-themed movies. So, it's no surprise that western Prom themes are becoming popular. This theme can give you a whole slew of ideas to play with for Prom. Hand out mason jars as favors and decorate with burlap fabric, horseshoes, fences, wagon wheels and more.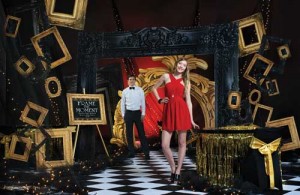 8. Frames
This is a really unique idea for Prom that may have been inspired by people using empty frames as photo props for wedding receptions. It's also an easy theme to create. You can use real frames for photo ops and/or create lots of cardboard frames for decorating. Pair them with some mood lighting and you will have a fantastical Prom evening.
9. Hollywood
Hollywood has been a popular idea for many years. Put some extra pizazz in your Hollywood Prom theme with photo ops that are inspired by real red carpet events. Set up some step and repeat walls or some gold footlights with faux crowd backdrops.
10. Glow
Lots of students these days love the bright colors that were trendy in the '80s. Popular glow parties and Proms have probably been inspired by that trend. Glow Proms are easy to stock up for. Decorating ideas include blacklights, neon paint, and chasing lights. The real deal, though, is with the favors. Make sure you have lots of glow jewelry, glow sticks, and blinky drinkware for every student.
Getting inspired by all these fun, new Prom theme ideas? Let us know which one your school chose. Or let us know about other trendy ideas.