Ever heard of the phrase, "buckets of fun?" You can take that phrase quite literally for any school event. In fact, custom buckets are a unique and trendy item you can use for everything from a Homecoming dance and Prom to a Senior Party. From favors to decorations buckets are multi-functional and versatile items that can be used in a variety of ways. Check out our top five favorite bucket ideas!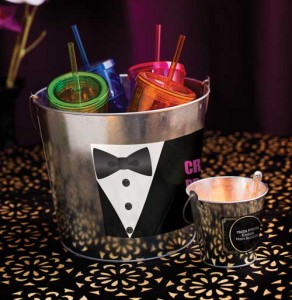 1. Ice Buckets
One of the biggest usage ideas, and most traditional, for your custom bucket is to line it with cellophane and then partially fill it with ice. Use it to keep soda pop cans cool. It is also a fun way to display soda pop for school dances or outdoor school activities. When your event is over, all you have to do is remove the cellophane, wipe the buckets, and reuse them for your next event.
2. Off to College
At most Senior Parties, schools hand out bags that are full of custom items and coupons that Seniors can take with them to college. Instead of bags, use a Custom Bucket. Add a "Class of…" imprint and then stuff the bucket with custom T-shirts, water bottles, tech items, treats, and coupons that your Seniors can use on campus. They also get an extra item–the bucket. They can use it for storage space in those small dorm rooms.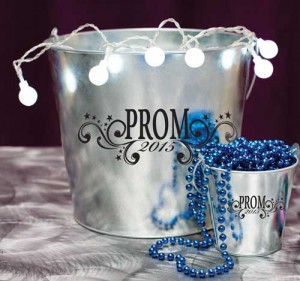 3. Centerpieces 
Smaller buckets make super centerpiece ideas for Prom night or an awards banquet. Add some clear gems, pearls, or colored stones to the bucket and then place a tea light or two inside for some quaint ambiance. Or  fill the bucket with flowers or a plant for a colorful Prom centerpiece.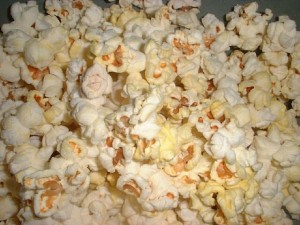 4. Tasty Treats
A popular way to use buckets–especially for teenagers–is to fill them with food. Line the bucket with plastic wrap or a paper towel to eliminate messiness, and then add your favorite munchies. Popcorn, pretzels, french fries, nuts, chips, and candy are just some tasty ideas you can hand out to students at games, Homecoming, Prom night, and other school events.
5. Contests
Give the traditional "Guess the Amount of Jelly Beans in the Jar" contest a twist, and use a bucket instead. Place some white tissue paper inside for a fun display, and then pour the jelly beans into your bucket. Other candy ideas for this contest are hard candies or gumballs. Hand out custom T-shirts, water bottles, or tech items as prizes to the students who have the closest guess and the runners up.
Use your imagination to make custom buckets a fun item in your school.
Do you have any other fun ways to use your bucket? Let us know.