Prom night should be a spectacular evening where every student feels like a movie star or royalty. For adults, Prom night can make you nervous. Even though you want to give students the amazing Prom of their dreams, student safety is high on your list of priorities. Be prepared on Prom night with this handy list of tips.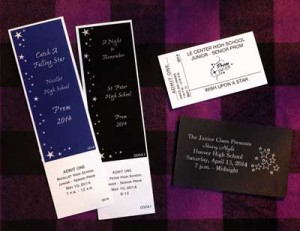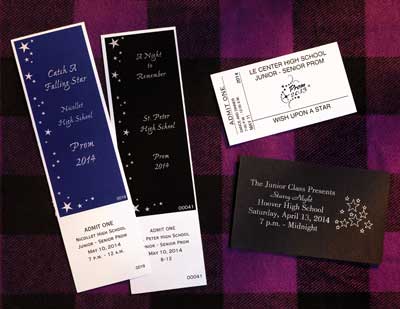 1. Tickets
You don't want any uninvited guests on Prom night. The easy way to make sure that everyone is there that should be there is with Prom tickets. Make sure that no one attends Prom without that important ticket.


2. Wristbands
Non-transferrable Wristbands are not just for night clubs or zoo admittance. Wristbands can be an invaluable trinket on Prom night. They are a quick way for adults to identify all your Prom guests–and they're a fun favor for students. Wrap one around every wrist as students enter Prom. And lead by example. Make every chaperone and adult wear one on Prom night, too.
3. Trained Parent Volunteers
Do you have lots of teacher and parent volunteers to help on Prom night? Don't forget to include volunteers and chaperones that have been trained in CPR, or are a nurse or doctor in your community.  Of course, we hope these types of volunteers are not necessary for Prom, but it's always nice to be prepared for an unexpected mishap.
4. Light-up and Glow Items
If your Prom venue has a dark parking lot or a long walk for students, hand out light-up favors or glow items BEFORE Prom night. Encourage students to use those items as they make their grand entrance. These favors can also be used inside. Once students are on the dance floor, those glow necklaces will really liven things up.
5. Get the Word Out About Prom Rules
While your students are focused on choosing the perfect dress, ordering tuxes and organizing limousine rides, draw up a list of Prom rules (if your school doesn't already some).
Keep the list short and to the point. These are teenagers, after all, and they may not pay attention if it's a long list. Print some of these ideas on tickets, napkins, or a banner:
• Keep parents and relatives informed about where you will be at all times.
• Don't let friends change plans for last minute "better" plans
• Use the buddy system. Don't go anywhere alone.
• Trust your instincts. If you have a bad feeling about something, listen to yourself.
6. Prom Bus
Instead of dozens of limousines dropping students off at your Prom venue, invest your Prom budget money in a Prom Bus. The bus (or two) can pick up students at your school (or other location) and safety transport them to your venue.
Do you have any other Prom safety tips you want to add? Tell us!