Prom night has become synonymous with teenage girl dreams of glamour, excitement, and partying. More often than not these days, a big group of friends go to Prom together. Sure, there are couples within your group of BFFs, but when you really dream about Prom friends and glamour are the first things that come to mind.
We've got a great idea for you: put some romance back into Prom! Most people go as part of a couple, so choose a Prom theme that really says "romance." But what does romance mean to you? Pick a Prom theme from one of these five romantic categories that best suits your school!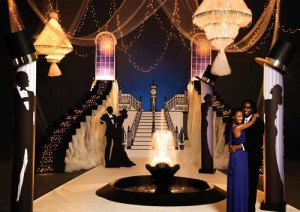 Elegance
A fancy, elegant ballroom Prom theme is a wonderful way to bring out the romance on Prom night. After all, most people love a fancy dinner and dancing, so a ballroom theme is a no-brainer. Chic Prom themes like Classique Magnifique, High Society, or Take My Breath Away are the perfect starting point for an elegant, yet romantic evening.
The Color of Romance
Certain colors are often associated with romance. Light or pastel colors can offer an amazing palatte for a mushy, romantic Prom theme. Themes that feature those romantic colors like Forever for Tonight or I Could Not Ask for More are great ideas to get your creative juices flowing to create a sentimental night for every couple.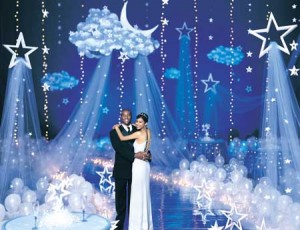 Heavenly or Dreamy 
If the idea of romance instantly sets your mind racing into a wonderful daydream, choose a dreamy theme for Prom night. A dreamy Prom theme can mean anything from an enchanted theme like Fairy Tale Magic, to a dreamy vision like Sea of Love, or they can be simply heavenly like Starlit Paradise.
Peaceful or Tranquil
Sometimes romance simply means enjoying someone's presence and being comfortable. Bring a little of that kind of ambiance to your Prom night. Prom themes like La Vie Boheme provide lots of relaxing decor. Courtyard of Dreams, Le Jardin l'Amour and Endless Twilight are other tranquil ideas that provide a comfortable atmosphere for any Prom couple.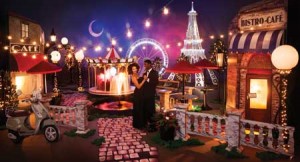 Adventure
Typical romantic settings are wonderful, but sometimes you just want to have an adventure with your best guy. There's no better way to have that adventure than with a travel-themed Prom. You can go to Paris, Italy, Greece…anywhere you want! Prom themes like Grecian Gardens, London Calling, Le Grand Parc de Paris and New York, New York all have an adventurous spirit to them that's perfect for your special night.
What does romance mean to you and your Prom night? Let us know.