1920s Prom themes and/or Gatsby Prom themes are very trendy right now. Like any popular Prom theme, there are hundreds of ideas out there for decorations, favors, invites, and much more. We can help you focus and find extraordinary Prom ideas to pull off an amazing 1920s or Gatsby Prom theme. Here are some ideas to get you started:
Begin the Beguine: Set the Tone with 1920s Invitations
The right Prom invitation will get your students super excited for Prom 2018. We offer a wide selection of invitations that fit a 1920s Gatsby party. Consider a Gatsby Roadster Invitation, Golden Lines Invitation, Art Deco Accents Invite, or Dapper Gent Invitation. Be sure to choose the perfect invite to fit your school's 1920s theme.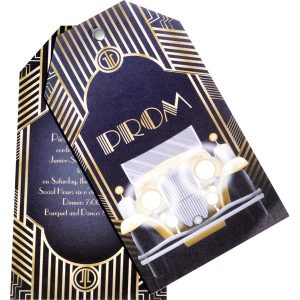 The Cat's Meow: Fancy Themes for Your Gatsby Prom
Once you have your invitations picked out, choose from Gatsby-friendly Prom decorating themes such as Back to the '20s, The Roaring 20s, Rhapsody in Blue, or Classique Magnifique. Any of these fancy, classic-looking themes are splendid and stylish ideas for 1920s Prom decorations.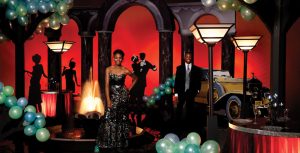 Super Spiffy: Select the Perfect 1920s Décor
If you don't already have it, purchase and use checkerboard background paper to create a spiffy 1920s dance floor. Add black and white murals (Classic Car or Dancing Silhouettes) to your Prom walls as decorations. Display snazzy chandeliers in your dance area or dining area to create a 1920s club scene. No matter what you decide upon for décor, think black and white—and classy.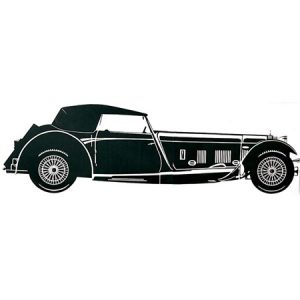 Keen Ideas: Nifty 1920s Prom Favors
Prom favors for a 1920s Gatsby theme should be elegantly attractive with a little bit of bling, or something special. Try some of these ideas for your custom Prom favors: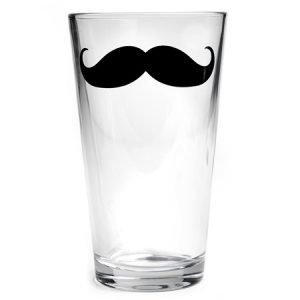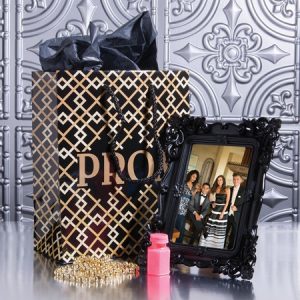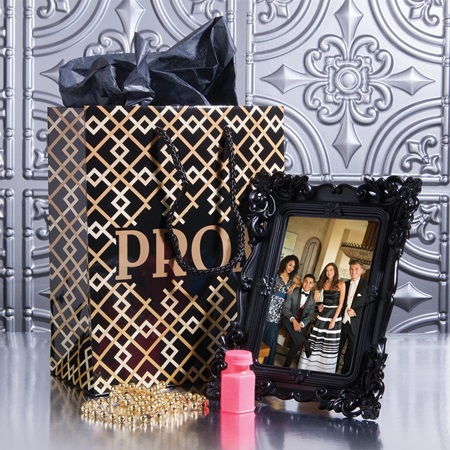 Glad Rags: Make Your 1920s Prom Theme A Dress-Up Party
When you send out your Prom invitations, add text that states "Be true to the era of the 1920s. Come dressed in your best Roaring '20s gowns and tudedos."
Students will love dressing up in retro fashions to fit the Gatsby mood. And don't forget to stock up on tiaras, fedoras, crowns, aviator sunglasses, and much more for your Prom night. Students will love dancing in them or using them for silly photo opps. Ask volunteers and chaperones to also dress the part for Prom night in full 1920s costumes.

All That Jazz: Pick A Mix of 1920s Tunes for Prom Night
Add to the authenticity of your Gatsby Prom night with a 1920s playlist. Popular music tunes from the era include Begin the Beguine, Rhapsody in Blue, It Had to Be You, Stardust, Puttin' On the Ritz, Mack the Knife, or 'S Wonderful.
Boilers, Cheaters, and Dough*: Set Up Interactive 1920s Photo Ops for Prom
Set up interactive photo ops for your Gatsby Prom to keep students engaged on Prom night. Photo op ideas include retro cars, flapper girl silhouettes, and photo scenes. Make sure you purchase 1920s photo props, too, so students can embellish their silly photos even more!  (NOTE: Boiler = Car; Cheaters = Sunglasses; Dough = Money)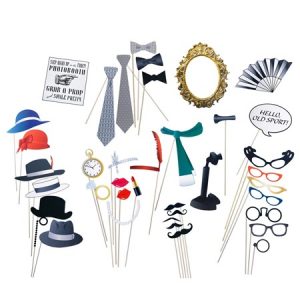 What ideas does your school have for a 1920s Prom theme? Let us know.