School spirit and cheerleading go hand in hand. Cheerleaders are responsible for pumping up school spirit before the game AND for keeping that school spirit and energy up during the game. Give your cheerleading squad the best, and trendiest, spirit products to help them do their jobs. Here are 12 products that entice cheerleaders to keep coming back to Anderson's.
---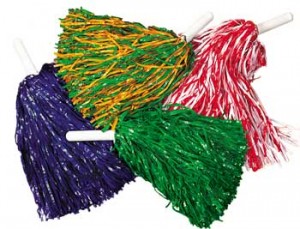 Poms — Anderson's poms come in every school color, and are a fun and inexpensive giveaway for pep rallies or games!
2. Eyeblacks — Perfect for football season, eyeblacks are fun and stylish for cheerleaders to wear. They also make a great school fundraiser! The crowd will want them, too, and cheerleaders can easily sell these at a profit.
3. Mini Poms — Great for hair! They come in plastic and metallic, and can also be used as shoe accessories.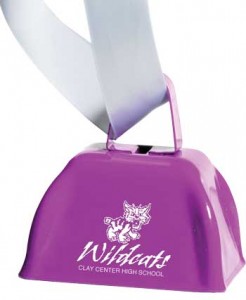 4. Cowbells — They make the loudest noise to help cheerleaders pump up the fans' school pride during games, pep fests, parades, and more.
5. Megaphones — Choose Jumbo Megaphones for your cheerleading squad and sell Popcorn Megaphones for the crowd!
6. Beads — They're a great giveaway, and fun to toss to the crowd during the Homecoming parade!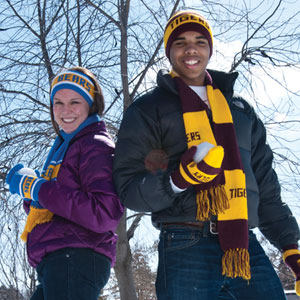 7. Knitwear — Beanies, scarves, and mittens are great for those late in the season, cool-weather night games!
8. Paint Kits — Cheerleaders are always making banners!
9. Confetti Poppers and Flicks — What better way to celebrate a victory?
10. Temporary Tattoos — When students see the cheerleading squad wearing Temporary Tattoos, it will get them more revved up for the game, and they will want to wear temporary tats themselves.
11. Foam Rousers — These are another way for cheerleaders to grab everyone's attention, and lead the fans in spirit cheers to spur team to victory.
12. Glow Necklaces — Great for night games and/or games that go into overtime.
What spirit products does your cheerleading squad use to pump up school spirit? Let us know. We love to hear your feedback.