Favors are a Prom tradition, but which ones ones are right for your school? Here are our top 10 trendy Prom favor ideas your teens will love.
1) Swag Bags 
Give your students the VIP treatment. Either purchase swag bags sets that come with favors to match your theme or create your own.
2) Technology Items
Teens love technology! Choose phone chargers, power banks, or speakers and add your custom imprint for the perfect keepsake.
3) Drinkware/Glassware
Choose classic glassware or trendy drinkware. Teens love water bottles, tumblers, mugs, and more that feature your custom Prom imprint.
4) Picture Frames
How best to show off those Prom selfies? With a classic photo frame favor, of course. Teens love displaying their Prom photos in fun keepsake frames.
5) Glow Keepsakes
Great options for a glow, neon, 1980's or even tropical theme, glow and light-up jewelry, drinkware, and accessories are must-have favors for Prom.
6) Candy
Candy is always a teen favorite. Fill small jars with colored candy and add your custom imprint to personalize it for your theme. Or hand out chocolate bars with personalized wrappers. Or go all out with a Prom candy buffet!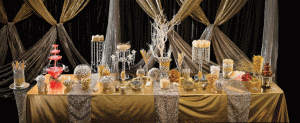 7) T-shirts
A wearable keepsake is a great Prom favor idea. Every time they wear their personalized T-shirts, your teens will remember Prom and the great time they had.
8) Sunglasses
Perfect for a tropical island or beach theme, sunglasses are favors teens can use all the time. Choose a classic style or fun and trendy one and add your imprint to match your theme.
9) Key Chains
Classic favors your teens will use every day, key chains come in a ton of styles, from photo frames to mood to rhinestone and bling.
10) Backpacks/Bags
Non-traditional prom favor ideas, backpacks are trendy, fun, and useful. Fill custom-imprinted bags with T-shirts and other favors, and use them as "swag bags" to match any theme.
No matter which favors you choose,  personalize them with a custom imprint to create one-of-a-kind keepsakes of your special Prom event.
Like these Prom favor ideas? Find them all and more at andersons.com