Are you wondering what kind of keepsakes your teens want for Homecoming? No worries. We know what teens want, and we have you covered. Check out our list of 10 popular Homecoming favors your teens will love.
1) Noisemakers
Students love to make a ton of noise to cheer on their team. Hand out fun and noisy favors like megaphones, cheer sticks, clappers, spirit poppers, poms, and more.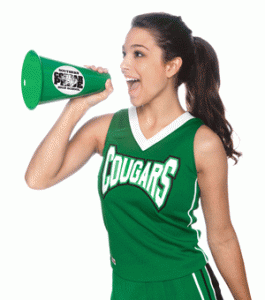 2) Glow Favors
Teens love anything that glows in the dark, so hand out cool glow favors, like sunglasses, beads, neck straps, glow sticks, necklaces, and more, as fun keepsakes from the Homecoming dance.
3) EyeBlacks
Designed to cut the glare of the sun for team members and cheerleaders, EyeBlacks have become huge fan favorites, too. Stock them in your concession stands or hand them out at the pep rally to get everyone ready for the big game.
4) School Spirit Apparel
There's no better way to display team pride and school spirit than with custom school apparel, like sweatshirts, T-shirts, hats, knitwear, and more.

5) Candy Homecoming Favors
Whether you put chocolate bars with custom wrappers at each place setting or include a candy buffet at the dance, your teens will love sweet candy favors.
6) Wristbands
Wristbands are a great way to show solidarity and school spirit. They also make great "admission tickets" to the dance.
7) Tech Homecoming Favors
Anything tech-related is a must-have Homecoming favor. Try electronics keepsakes, like chargers, ear buds, phone pockets, selfie sticks, phone stands, or speakers.
8) Sunglasses
Sunglasses are popular teen favorites. Get them in your school colors and customize them with your school name to create fun Homecoming keepsakes.

9) Drinkware 
Custom-imprinted drinkware favors, like tumblers, water bottles, and mugs, can be used again and again, long after Homecoming is over.
10) Backpacks and Bags
You can never go wrong with backpack Homecoming favors. Choose fun designs in your school colors, and add your custom imprint to create the perfect bag keepsake for your event.
The right Homecoming favors will help make every aspect of the event memorable, from the pep rally to the game to the dance. With our list of must-have Homecoming favors to help you, you can give your teens the perfect keepsakes of one of the year's biggest events.
Like these Homecoming favor ideas? Shop for them all now at andersons.com