Choosing the right Homecoming theme for your dance is important. You want one that your students will love and remember for a lifetime. At Anderson's, we have hundreds of amazing Homecoming themes to choose from. Here are three of our favorites for 2017. We're sure your teens will love them, too.
Cool City Homecoming Theme (SE18A0)
For the ultimate destination Homecoming theme, send your students on a thrilling journey to Cool City. The neon pastel colors, tons of lights, and futuristic vibe make this an urban adventure your students will never forget. This amazing theme is all about lights. Each kit, from the buildings to the bench, includes light-up elements, and when you put them all together, the effect is truly spectacular. This theme mixes an upscale urban vibe with a fun and trendy style that will make it a memorable Homecoming destination for your students.

Red Carpet Affair Homecoming Theme (SE18F0)
Set the spotlight on your students as they make their grand entrance into this Hollywood-inspired Homecoming dance theme. Complete with a red carpet and paparazzi with real working lights, this Red Carpet Affair Complete theme is designed to give your students the VIP treatment. Place the red carpet and roped railings at the entrance to your dance to showcase each student or couple as they make their way inside. Then, enhance the look with cityscape buildings, lighted palm trees, and a sweet luxury car to give your Homecoming dance a distinctly Hollywood vibe.

Golden Melodies Homecoming Theme (SE18C0)
Step back in time to the golden era of jazz with this 1920's-inspired Golden Melodies Complete Theme for your high school Homecoming dance. Your students will love to dance to the tunes of the '20s in a fun, big band setting, surrounded by shiny gold and silver accents. Everything about this theme oozes elegance and sophistication, from the Solid Gold Band Shell and Big Band Kit to the Light on the Water Chandelier Pool Kit. The silver Balloon Chandelier makes a unique and fun focal point, and the checkerboard floor helps promote the look of a 1920's ballroom.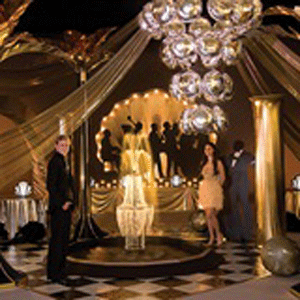 You can't go wrong with one of these three awesome Homecoming themes, but we have hundreds of others to choose from at andersons.com if these aren't exactly what you're looking for. Whatever theme you choose, we hope you have a fun and memorable Homecoming event.