Is your high school looking for a unique Homecoming theme for your Spirit Week and/or Homecoming dance? Try one of these 9 new ideas. From daily activities and contests to favors, prizes, and decorations, we've got lots of unique ideas your school can use for your Homecoming festivities.
Pink Out Homecoming Theme
Combine your festive Spirit Week with a good cause and have a Pink Out Homecoming theme. Organize a walk-a-thon for one day of the week to raise funds for breast cancer research. Hand out Pink Ribbon EyeBlacks for the big game. You can even have every student, boys included) wear pink to the Homecoming dance.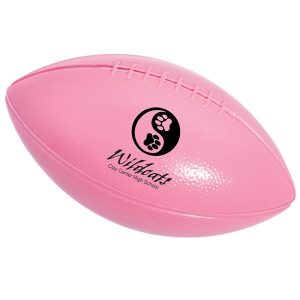 School Color Homecoming Theme
Go wild with your school colors during every day of Spirit Week. Have students wear "crazy" fan gear one day of the week. Splash your school colors all over the school with banners, posters, and more. You can even use your school colors in a fancy way for your Homecoming dance. Select fabrics, table covers, and other decorations in your school colors to make the colors look more elegant.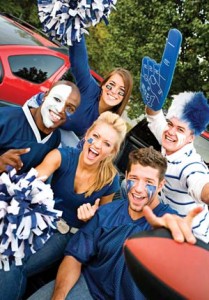 Football Helmet Homecoming Theme
Homecoming has many festive activities during the week (contests, dress up days, etc.), but mostly it's  about football. There are lots of ways to make football the focal point every day of Spirit Week. Stock up on EyeBlacks with football helmets for giveaways or the big game. Add a football helmet design to custom favors and apparel for swag bags. And decorate your gymnasium or auditorium with lots of football helmets for the Homecoming dance.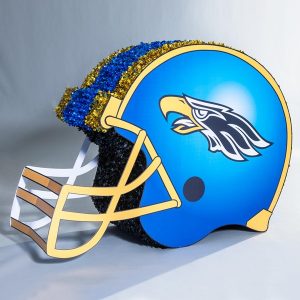 Glamorous Homecoming Theme
Your Homecoming Spirit Week is all about having fun and letting your hair down. Give your students a chance to dress up with a glamorous ballroom theme for your Homecoming dance. Pull out all the stops by using lots of crystals, chandeliers, bead strings, decadent fabrics, and lots of glitter.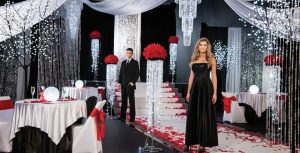 Hawaiian Homecoming Theme
Choose a tropical motif for your Homecoming dance and Spirit Week with Hawaiian décor. Have a limbo contest. Hand out sunglasses as favors or contest prizes. Set up Hawaiian huts and tikis for a selfie station. And go wild with Hawaiian/tropical decorations for your school dance.
Western Homecoming Theme
Choose a down-home western theme for Spirit Week. Think hay bales, wagon wheels, cacti, cowboy boots, burlap, and more for your western-themed décor. Hand out mason jar glasses in your swag bags. Look for woodgrain-patterned background paper for selfie stations. There are lots of ways to work this theme into your dance and weekly activities.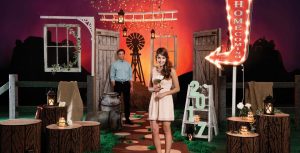 Carnival Homecoming Theme
Add to the festive atmosphere of Homecoming with an equally festive and exciting carnival theme. Use our Carnival Extravaganza or Down on the Boardwalk themes as inspiration for Homecoming dance decorations. Set up a Roller Coaster Photo Prop as a selfie station. Organize midway games as an activity during the week, or set them up at your Homecoming dance; students will spend a lot of time trying to win a prize.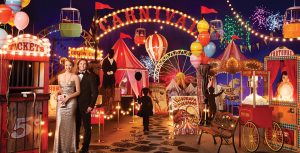 Casino Homecoming Theme
This is a really popular theme idea, and it is easy to follow all week. Start off by handing out Scratch-Off Invitations (for your dance) on Monday, and distribute unique favors every day, like playing cards, dice, and poker chips. Set up gaming tables on Friday so students can use their chips (or set them up at your dance so students can enjoy them for a longer period of time). And decorating for the dance is really easy; just look for lots of lights, money, dice, and card suit patterns.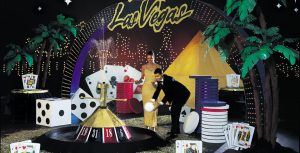 No matter which Homecoming theme you choose, have fun with it! The more enthusiastic and positive you are about the theme, the more fun your students will during Spirit Week, the game, and your Homecoming dance.