Senior Night is one of the biggest highlights of the year. Many schools hold a lock-in Senior Night the night of graduation day, so it's the perfect way to cap off the school year. There are many ways to decorate for this exciting evening. Use one of these six fun ideas to help aid you in the planning and decorating for your high school's Senior Night.
1) Highlight Your School Colors or Class Colors
High school seniors are all about school spirit and class pride, so be sure to play up both of these things by decking out your Senior Night space in your school or class colors. Get started with an easy, ready-made décor kit, like our Homecoming/Senior Night Party Kit that includes balloons and a banner, and then add other décor, like fabric, background paper, and more, to complete the look. Don't forget to encourage students to wear their school or class colors, too.
2) Create a Wall of Fame
A Senior Wall of Fame is a great way to jazz up a boring hallway and showcase your outstanding students at the same time. Cover a hallway or gym wall with background paper. Then, create posters that highlight some of the amazing students in your senior class and their accomplishments. Feature students who excel in academics, athletics, art, drama, community service, and more.
3) Set Up a Selfie Station
Décor and entertainment at the same time, a selfie station is a great way to cover a large area of your event space. Choose a fun mural backdrop, a 360˚ Selfie Photo Op Station, a photo booth, or a step and repeat wall. Include lots of fun props and dress up clothes to give your students something to talk about as they snap and share their pics.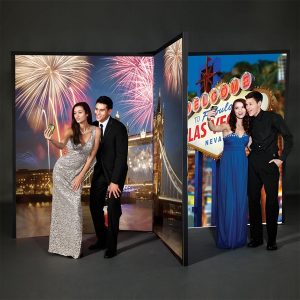 4) Give Your Senior Night A Theme
It may not be Prom or Homecoming, but you can still give your Senior Night Party a theme to help tie all your décor together. While you may not want to go all out, like you would for Prom or Homecoming, fun mini themes and photo scenes can help cover large areas, provide backdrops for photos, and give a cohesive look to your space. Choose a complete theme, or mix and match theme kits to create the exact look you want.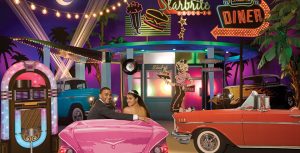 5) Showcase Your Athletes
As popular representatives of your school, your athletes deserve special recognition–and you can use their likeness for a special display. Gather styro numbers and a photo of each student athlete. Create a personalized number sculpture for each athlete by attaching one picture to that student athlete's number. Put them on display during your Senior Night.
6) Baby Pictures
Senior year is a time of reflection, so play up the nostalgia with a "Baby Picture Display." Encourage as many seniors as possible to submit a baby photo for the display. Create a large collage of the pictures and set it up during your Senior Night. A fun option for this is to secure a Senior photo next to each picture to see how each student has changed over the years.
Use some of the above ideas for your high school's Senior Night. Throwing an exciting and energetic Senior Night will give your graduating class memories that will last forever.