Looking for the hottest new Prom themes for 2018? At Anderson's, we have you covered. Our newest Prom themes include something for everyone – exotic destinations, fancy ballrooms, enchanted gardens, fairy tales, and much more. Check out our list of 17 new Prom themes, choose your favorite, and get ready for the Prom night of your dreams.
The ultimate garden Prom theme, ­­this dreamy scene is a true floral fantasy. Hundreds of durable (and reusable) felt-like flowers adorn the back wall, arch, columns, and even the real, working fountain to create an elegant and memorable look, and the lighted columns and pretty trees add to the ambience.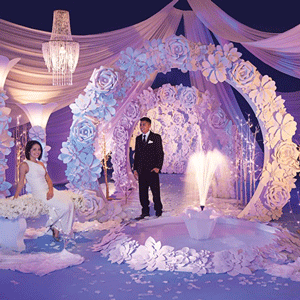 The gold standard in new Prom themes, this golden gala is more than a theme – it's an event. Filled shimmer and shine, this amazing theme is all about style, sophistication, and so much gold. With a real, working grandfather clock and real water fountain, this gilded theme will help create special Prom memories for your students.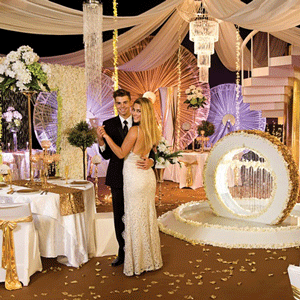 Featuring the formal colors of black and white, this spectacular Prom theme is the epitome of elegance. Designed to look like a formal ballroom, the theme includes grand spiral staircases, stunning crystal columns, a stunning floral wall, and majestic chandeliers to add to the sophisticated style.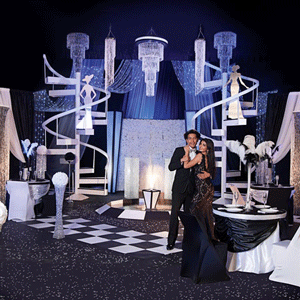 Whisk Prom guests away to the Orient with this beautiful destination Prom theme designed to look like an Eastern garden at sunset. The lighted birch trees and Zen garden kit give this theme a tranquil feel, and the Asian-inspired architecture lends an authentic touch.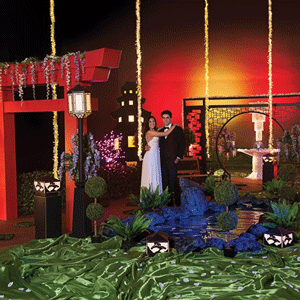 Sparkling pyramids, a glittery moon, golden palm trees, and a crystal fountain set the scene for this glitzy Egyptian Prom theme. The allure of Egypt will come alive for your students as they experience a night  with this romantic and exotic theme.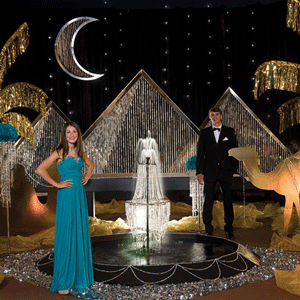 Explore the sights of Italy's most famous city, when you embark on a holiday in Venice for Prom night. From grand Venetian buildings bordering a majestic piazza with a real working fountain, to a stunning gondola photo prop, this theme has everything you want for an Italian Prom destination.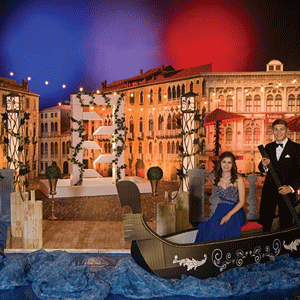 A Midsummer Night's Dream
You'll feel like you've stepped into a midsummer night's dream with this majestic garden Prom theme. The elegant pink and white color scheme and lighted greenery lend a romantic look and warm ambience to the scene, and the lush greenery and real, working fountain give it the perfect garden feel.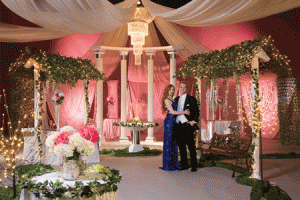 Once upon a time, there was an amazing fairy tale Prom theme, complete with an enchanted castle, a dark forest, and a Cinderella coach. ­ All your Prom night wishes will come true, and you'll live happily ever after, with this storybook theme.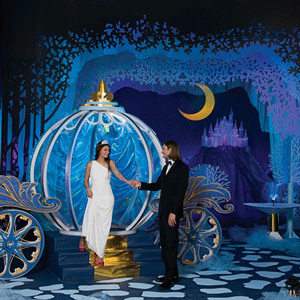 There are so many glorious wonders in this enchanted garden Prom theme, you won't know where to look next. With its stately statues and enchanting animal topiaries to floral and lighted chandeliers and a real working fountain, this amazing garden is the perfect place to experience the magic of Prom night.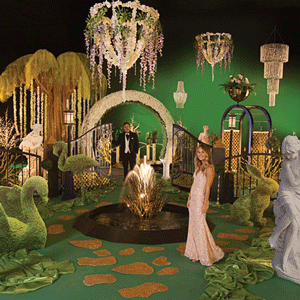 Step inside this manor of grandeur and ge­t ready to experience everything this stately Prom theme has to offer. With a real, working clock, flickering "fire," and 3D piano structure, you'll feel like you're really inside a majestic mansion house for Prom night.
With its perfect mix of rustic charm and classic elegance, this country garden is where you want to be on Prom night. An abundance of greenery, a classic bench, and wood look structures (including a real, working water fountain) set the scene for this unique garden theme.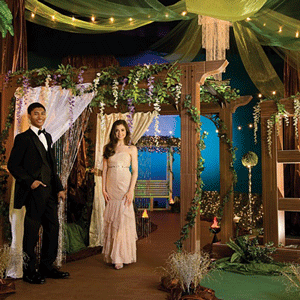 Step back in time to the golden era of jazz with this 1920's-inspired Prom. Dance the night away to the tunes of the '20s in a fun, big band setting, surrounded by shiny gold and sophisticated silver.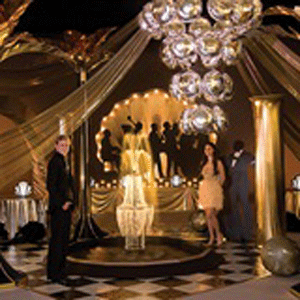 All aboard this amazing new Prom theme destined for adventure. Inspired by a popular novel by Agatha Christie, this train station theme is full of mystery and intrigue. Whether you're waiting at the station or aboard the train, you'll discover all the adventures that await you on the Midnight Express.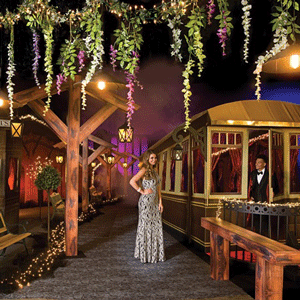 For the ultimate destination Prom theme, take a thrilling journey to Cool City! You'll feel your senses come alive as the neon pastel colors, tons of lights, and a futuristic vibe turn this theme into an amazing urban adventure you'll never forget.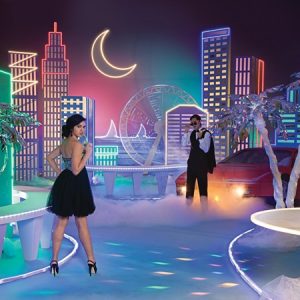 Havana Nights
This colorful Cuban theme has "fun" written all over it. Feel the beat of the music and the vibe of the Havana nightlife as you salsa dance your way into a Prom night celebration.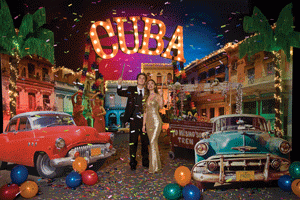 Set the spotlight on Prom guests as they make their grand entrance into this Hollywood-inspired Prom theme. Complete with a red carpet and paparazzi with real, working camera lights, this red carpet theme is designed to give everyone the VIP treatment on Prom night.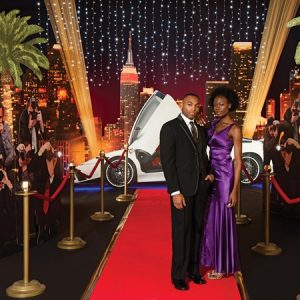 Whether you choose a complete theme or mix and match elements of several themes to create a one-of-a-kind look, it's easy to find everything you need for your perfect Prom night when you shop andersons.com.