We surveyed schools across the United States to find out what the most popular Prom themes are for 2018. We hope the results can help you decide on the perfect Prom theme for your school. Direct from the Prom Committees of schools like yours, here are the top 6 most popular Prom themes for 2018 and some Prom favor ideas to match.
#6: Masquerade Prom Theme
Masquerade Prom themes have always been school favorites, and this year is no exception. The great thing about a masquerade theme is that it's so versatile. Some schools are going all out with an over-the-top Mardi Gras masquerade party, others are setting a mysterious tone with a Masquerade ball, and others are going for ambience with a romantic Phantom of the Opera masquerade theme. Favor idea: Masks.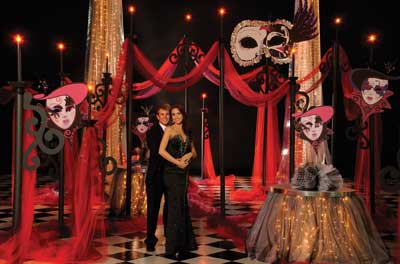 #5: Hollywood Prom Theme
Hollywood Prom themes are holding steady this year. Schools are rolling out the red carpet to create ultra-glam events that make their students feel like super stars. Many schools are opting for an "Old Hollywood" theme that features a classic look reminiscent of the Golden Age of Hollywood era. Others schools are choosing a modern Hollywood vibe, complete with a red carpet, paparazzi, and tons of glitz and glamour. Favor idea: Swag bags.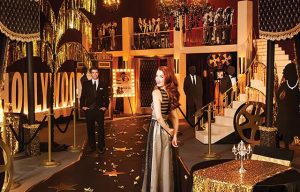 #4: Stars Prom Theme
With names like "Starry Night," "A Night Under the Stars," and "Night of a Thousand Lights," stars Prom themes continue to be favorite choices for schools. A star theme is easy to create, offers lots of favor and décor options, and provides the perfect romantic feel. Favor idea: star-themed glassware.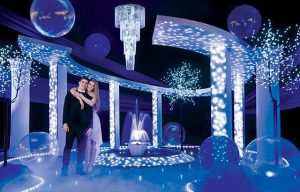 #3: International/Around the World Prom Theme
International Prom themes with are making a huge comeback this year. Whether students are traveling "Around the World" to visit several exotic locals in one theme or visiting specific destinations, like Greece, Arabia, Paris, Morocco, Italy, and even New York, international Prom themes provide adventure, fun, and amazing memories for your students. Favor idea: A custom-imprinted backpack.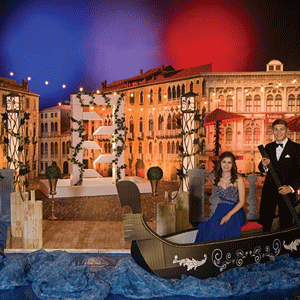 #2: Gatsby and Gold Prom Theme
The Gatsby era was all about opulence and golden glamour- the perfect elements for an amazing Prom theme. So, it's no wonder "A Night at Gatsby's" theme is the second most-popular choice for this year's Prom. Create a distinctly 1920's theme with art deco décor, golden accents, and big band music. Favor idea: Key chains or glassware with a black and gold art deco graphic.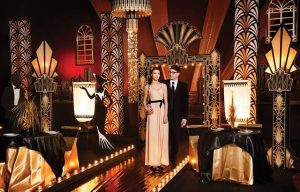 And the #1 Most Popular Prom Theme….
Drum roll please…Enchanted Forest! Schools are going crazy for Enchanted Forest Prom themes, and they're doing it in so many different ways:
Romantic fairy tale forest
Mysterious secret garden
A creepy haunted forest (think "Beauty and the Beast)
Magical fantasy Forest (like the land of Narnia)
Choose a complete Prom theme or design your own enchanted forest theme. You'll need trees, an arch or gate, and a pathway to start with. After that, just use your imagination. Mix and match theme kits and props to create the ideal forest scene for your school. Favor idea: Glow products.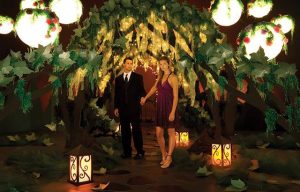 Now that you know what the top Prom themes for 2018 are – as decided by schools like yours, you can use this information to help design the perfect prom theme for your school. Whether you choose a complete theme with all the elements you need, or you mix and match kits and props to create your own unique theme, you'll be able to give your students a special and memorable event.
Need favors and accessories to match your theme? Shop Anderson's Perfect Pairings for everything you need.