Need something to complete the look of your Masquerade Prom or Homecoming dance theme? A coordinating centerpiece is a great choice. But, which one? Depending on the style and tone of your Masquerade theme, you have many different centerpiece options, from dark and moody to festive and fun. Check out these masquerade centerpiece ideas for your Classic Masquerade Ball, Gothic or Phantom Masquerade theme, or Mardi Gras Carnival theme.
Classic Masquerade Ball Theme
Nothing beats a classic masquerade ball. It's the perfect mix of mystery and fun, with a little bit of romantic elegance thrown in. Classic mask centerpieces are great ways to set the scene and match the tone of a masquerade theme like this.
Black Masquerade Centerpiece Kit
If your masquerade theme is classic black-and-white, you need this Black Masquerade Centerpiece Kit for all your tables. The black glass vase adds the perfect tone of elegance, the mask accent lends an air of mystery, and the fancy feathers promote a fun vibe. It's the best of everything masquerade with this beautiful centerpiece.
Guess Who Centerpieces Kit
Everything about this Guess Who Centerpieces Kit is classic masquerade, from the comedy/tragedy-inspired mask and swooped hat to the elaborate collar and ruffled netting base. It's elegance and mystery rolled into one, and it's the perfect match to the tone of your Masquerade Ball theme.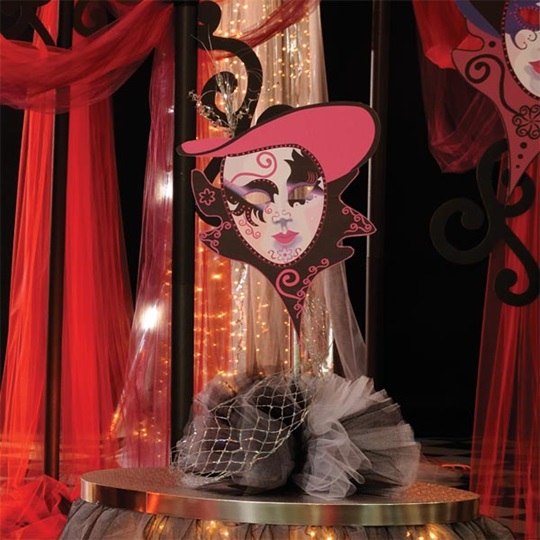 Gothic/Phantom of the Opera Masquerade Theme
Gothic and Phantom of the Opera Masquerade themes are all about the mystery and the moody tone, so you'll want darker and denser table centerpieces that will really help carry the air of mystery throughout your space.
Black Chandelier Centerpiece
You can't have a gothic masquerade theme without a candelabra, and this Black Chandelier Centerpiece is the ideal choice. It's dripping with dark crystals to give it a touch of elegance, and the included battery-operated tea lights provide the perfect moody lighting to help lend an air of mystery.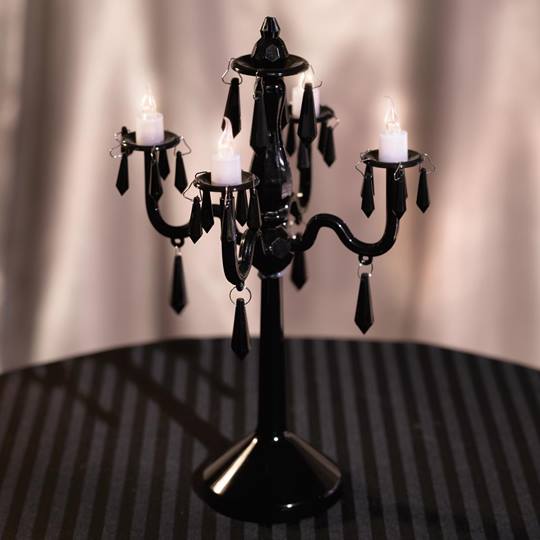 Crimson Perfection Rose Centerpieces Kit
Roses imply romance, but they also have a mysterious and dramatic tone about them, so this Crimson Perfection Rose Centerpieces Kit is a must-have for your Phantom of the Opera theme. With this kit, you get bouquets of artificial roses, moody black glass vases, and extra rose petals to scatter around for extra dramatic effect.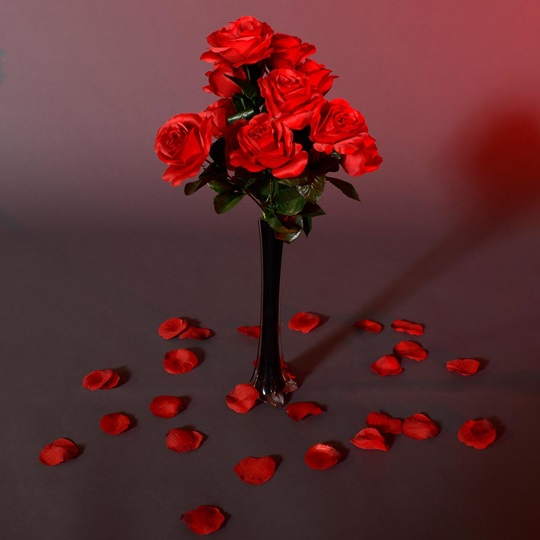 Mardi Gras Carnival Masquerade Theme
Turn your Masquerade theme into the ultimate party by putting a super fun Mardi Gras or Carnival twist on it. If you go this route, you'll want super fun centerpieces to match the celebratory tone of your theme.
Purple Masquerade Centerpiece
Purple is one of the traditional colors of Mardi Gras (along with green and gold), so this Purple Masquerade Centerpiece is the perfect table decoration to match your Mardi Gras or Carnival theme. Use it as it is, or decorate it with glitter, lights, or fabric to make it a statement-making centerpiece.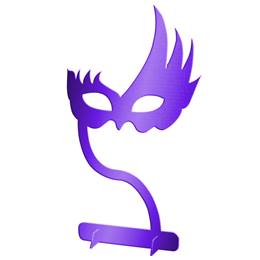 Masquerade Centerpieces Kit
This Masquerade Centerpieces Kit just screams "party," so it's a great choice for a fun-filled Mardi Gras celebration. The mask decorations add the obligatory touch of mystery, and the fancy gold base, star garland, and metallic sprays give it the perfect fun and festive look.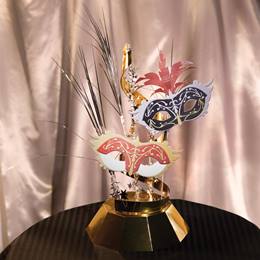 Centerpiece With Masks Graphic
For a lighter take on a Mardi Gras masquerade theme, try this Centerpiece With Masks Graphic on for size. It's simple, colorful, and budget-friendly, yet looks amazing when displayed on your event tables. The rounded centerpiece features a full-color masks graphic on both sides and comes with two battery-operated tea lights to help set the mood.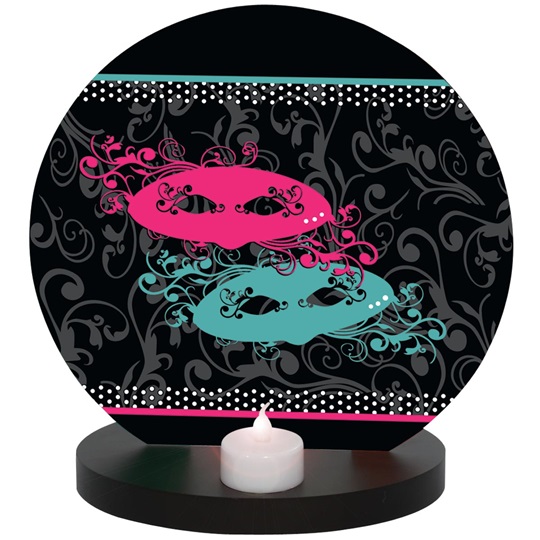 It's no mystery that the perfect decorations are essential to set the right tone for your Masquerade theme. Whether you're going for a romantic and classy Masquerade Ball, a dark and moody Gothic or Phantom of the Opera theme, or a fun and festive Mardi Gras Carnival theme, these table centerpieces can help complete the look and make it easy to unmask all the amazing memories of the night.