You can achieve so many looks for Prom, school dances, or other school events using fabric. But, with so many fabric options to choose from, how do you know which fabric is best for which decorating need? We can help with that. Here, we have outlined some of our most popular fabrics and give ideas for the most ideal ways to use them for your school event decorating.
Gossamer Fabric
This sheer fabric is one of the most versatile; it can be used with any Prom theme and in any size room. Gossamer is available in a variety of sizes and colors, and even comes in patterns and metallic finishes, so you can use it to create almost any look. Here are some fun ways to use gossamer fabric when decorating for your school events: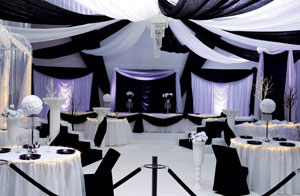 • Cover walls or large objects in your event space
• Create fabulous ceiling treatments by attaching gossamer to a ceiling ring and swooping it across the room or by adding a chandelier in the center
• Attach to wood or cardboard theme props to create a textured look
• Bunch around the bottom of arches, trees, or other prop structures
• Line edges of a space to create a pathway – add mini lights, too
• Billow gossamer and attach to cardboard silhouettes to create clouds or tree tops
Satin Fabric
This rich-looking satin fabric features a luxurious, semi-shiny finish that adds elegance to your event decorating. You can bunch it billow it, swoop it, or create a sleek and streamlined look in any space. Satin fabric comes in a variety of deep, vibrant colors and is perfect for use with ballroom, castle, circus, or 1920s themes. Check out these ideas for decorating with satin fabric: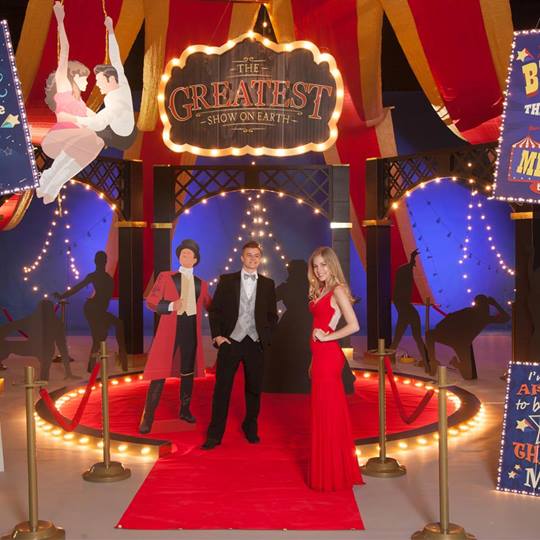 • Use as elegant-looking table covers
• Lay over a dessert table to offset your serving dishes and treats
• Highlight your seating area with satin table runners and chair bows to pull your look together
• Hang from the ceiling or a back wall for added drama
Paisley Fabric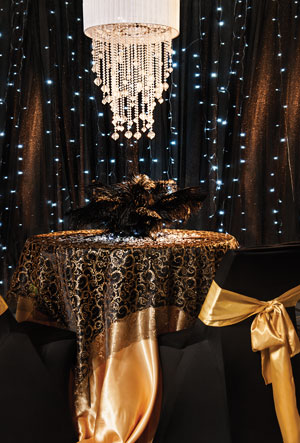 Paisley fabric is both elegant and fun. The pretty textured paisley design adds drama and interest to the semi-sheer mesh material, and the tiny specks of glitter give it a dazzling and fancy look that brings unexpected shine and a pop of glitz to any event space. It's lightweight and flexible, which makes it ideal for covering, wrapping, and draping. Here are some easy ways to incorporate this beautiful fabric into your event decorating.
• Add mini lights and hang paisley fabric from a wall to create a light wall photo backdrop
• Place over solid-color fabric on tables as a beautiful table covering
• Wrap around columns, gates, arches, and more for a cool, textured look
Tulle Fabric
This budget-friendly semi-sheer fabric lightweight and beautiful, but also strong and durable, so it's perfect for almost any decorating need. Tulle material drapes well, looks amazing when paired with mini lights, spotlights, or floral garland, and comes in a huge variety of colors to match any event theme or school colors. Tulle also comes in a glittered option for extra glitz and glamour. Decorate with tulle fabric in these ways: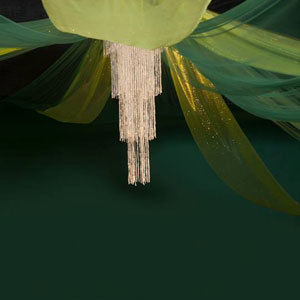 • Swoop from the ceiling to create spectacular ceiling treatments
• Mix and match colors, or use with other fabrics to create textured looks
• Cut to size and use on tables as table covers or runners
• Swag from wall to wall or in a doorway to separate areas in your event space
• Define a walkway
• Drape over theme elements, like arches, columns, ticket booths, and DJ booth
• Bunch around table centerpieces (add florals, greenery, and mini lights)
No matter what you're decorating, we have a fabric for it. This quick, easy, and affordable decoration is the perfect way to add that WOW factor to any event space. With these easy fabric decorating ideas, you can create almost any look you want, transform your space into something truly spectacular, and create a special and memorable event for your students.