When you are looking for Homecoming and Prom decorations, corrugated paper is one of the best tools at your disposal. It's a versatile item you can use to enhance your Homecoming and Prom themes.
Here are some quick facts and uses for corrugated paper:
Q:  What exactly is corrugated paper?
A: Let's start with the basics. Corrugated paper is a sturdy decorating paper that is flat on one side and slightly ridged on the other. This is a common, sturdy decorating material used by Prom and Homecoming committees, as well as carnival committees and in classrooms.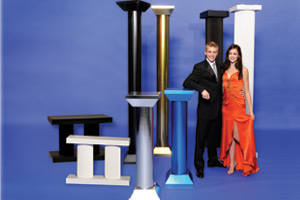 Q: So, what do we do with corrugated paper?
A: This decorating material, typically called "corrugated" for short, has lots of uses. The most common use is making round columns. Corrugated can also be used to create other structures like balustrades and steps.
Q: Are we limited only to structures for our corrugated?
A: Simply put, no. You can choose any solid-color corrugated rolls and cut out stars, circles, and other shapes to adorn your Prom space walls, Homecoming floats, and other flat surfaces.
Q: Does corrugated come only in solid-colors?
A: It varies by supplier but in addition to our solid-color corrugated, we offer lots of patterned corrugated paper. Some of our popular patterns include woodgrain, cobblestone, and red brick.
Q: What are some popular ways to use patterned corrugated?
A: Patterned corrugated rolls are quick and easy ways to cover bleachers, lockers, or drab-looking walls. In minutes, you can have these large spaces decorated to look like a brick or woodgrain background, or whatever you wish. Patterned paper is a great way to turn a boring wall into a fabulous background to match your Homecoming or Prom themes.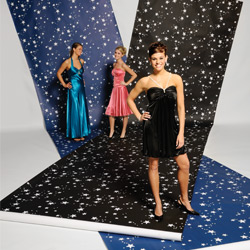 Q: What can we use to coordinate with corrugated paper?
A:  Almost anything! Supplement your corrugated structures and backgrounds with flat paper rolls, balloons, metallic sheeting, and much more.
Here are some additional resources to help you with your Homecoming and Prom decorations: