The right Prom decorations can make or break the look of your theme, but who has the time to go all out on decorating? You need decorating ideas that will give you maximum impact with minimal time and effort on your part. Here are a few to get you started. With these 12 fast and fun Prom decorating ideas, you'll be well on your way to creating an amazing space for your Prom.
1. Floral Sheeting
This traditional float material is another unique idea for table covers. You can also use floral sheeting as a table runner, gift bag filler, or as a fabric to twist and wrap around columns and banisters.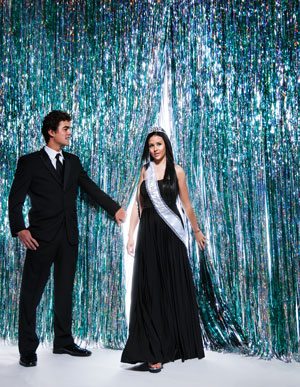 2. Doorway Curtains
Dress up drab doorways with curtains. Layer several colors or styles together for a vivid and festive effect.
3. Ceiling Fabrics
Swoop fabrics from the ceiling to create a stunning effect. You can even mix and match fabrics (like tinsel fabric and satin fabric) to create a richer, elegant look.
4. Metallic Sheeting
Use metallic sheeting on the floor to create a shimmery look. It's great for star themes, Hollywood themes or Prom themes with water looks.
5. Murals
Use large wall murals on drab walls within your venue; they make great areas for teens to take photos.
6. Cracked Ice
Use this unique decorating material to make stars or other shapes that match your Prom theme. Attach cracked ice to walls, tables, columns, and more.
7. Starry Gossamer Fabric
Use starry gossamer fabric on the ceiling or starry paper on the walls to create a starry night look.
8. Light-up Items
Teens love light-up and glow items. Use light-up centerpieces, cups and royalty items as Prom décor and favors.
9. Patterned Paper
Patterned paper, like checkerboard, wood grain, cobblestone or animal print, will really bring your theme to life.
10. Holographic Paper
Use holographic paper on walls and for stars. It's great for ballroom and starry night themes.
11. Upside Down Balloons
Hang balloons upside down from the ceiling by putting a marble inside each balloon before hanging it.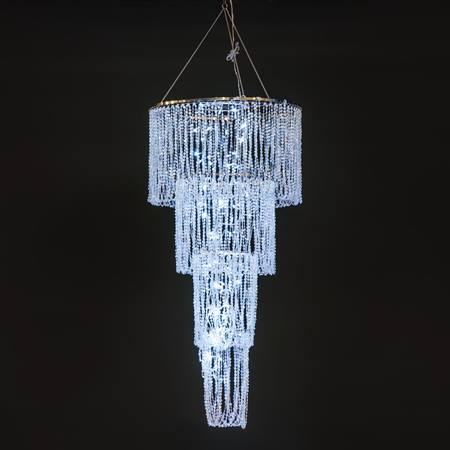 12. Chandeliers
Hang a chandelier or two in your Prom space for some great ambiance. Simple, fancy, or light-up, a chandelier is a must-have for any Prom theme, especially a ballroom theme.
Want more quick and easy Prom decorating ideas? Download our 90 Fast and Fun Prom Decoration Ideas booklet now at andersons.com/resources.