Homecoming 2023 is coming, and it's time to start planning for your HOCO dance. To make it easy, here's a list of the top 23 Homecoming themes for 2023. Choose your favorite, or mix and match to create a unique theme for your Homecoming dance.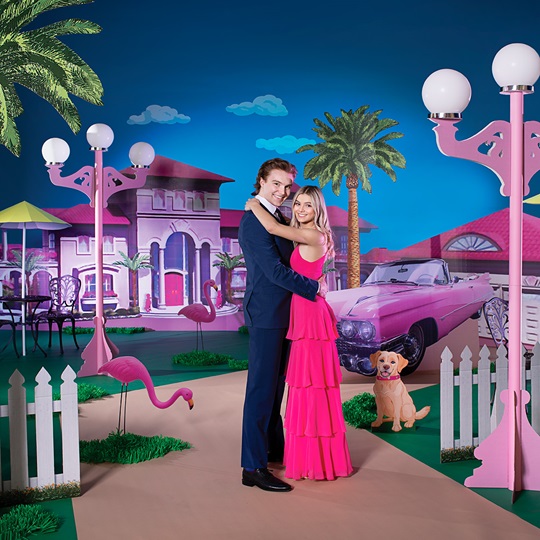 Barbiecore® Pink themes – check out our House of Dreams complete theme
Little Mermaid/Under the Sea themes – decorate with bubbles, balloons, and blue fabric
City of Light/Paris themes – set up an Eiffel Tower prop as a photo backdrop
Garden themes – set up reusable faux trees, benches, and lampposts
Hollywood themes – roll out a red carpet walkway with stanchions, ropes, and a red velour aisle runner
Casino themes – hand out custom playing card favors
1980s themes – add pops of neon colors to your event space
Masquerade themes – present a Mardi Gras vibe with green, purple, and gold décor – don't forget masquerade masks!
1920s themes – decorate with black and gold and hand out favors with art deco designs!
Stars themes – create a starlit sky with patterned paper and decorate with lights everywhere!
Ballroom themes – create a ballroom floor using black-and-white checkerboard paper
Gold themes – present gold metal tiaras to your Queen and her court!
Fairy Tale themes – decorate in pretty pastels and add Cinderella's coach centerpieces to tables
Glow/Neon themes – present light-up drinkware and glow bracelets and necklaces as HOCO keepsakes
Floral themes – decorate with floral panels and flower garland
Year themes – present customized dance favors featuring a 2023 imprint
Diamonds themes – decorate with glitter fabric, sequins, and sparkling chandeliers
Gothic themes – make it moody with black and red fabric and candelabras
Destination/International themes – set up a buffet featuring food from your destination theme
Tropical themes – decorate with palm trees and hand out cool sunglasses as favors
Movies/TV themes – display movie posters and life size celebrity cutouts as fun photo ops
Enchanted Forest themes – mix and match faux trees to create the perfect forest scene
City/NYC/Big Apple themes – set up a cityscape silhouette background
These top 23 themes for Homecoming 2023 include a variety of amazing options, from elegant and romantic to fun and casual. Whatever style you choose, we can help you pull it off quickly, easily, and affordably, with our huge selection of complete themes, theme kits, and decorations. Shop by theme or by color at andersons.com.