Teacher Appreciation Week is the time to say "Thank You" to all the teachers in your high school for the dedication they display every day. Verbally expressing your thanks is important, but tangible tokens of acknowledgement go a long way when it comes to letting your teachers know how much you appreciate their hard work and commitment. Here are a few Teacher Appreciation gift ideas the educators at your school will love.
Teacher Appreciation Rainy Day Kits
Teachers work long hours, and their jobs are often stressful. Recognize their outstanding commitment with Teacher Appreciation Rainy Day Kits filled with leisure items to help your teachers relax at home or outside, so they are recharged, energized and ready to greet all their students with a smile on Monday morning.
Choose drawstring backpacks or tote bags and customize them with your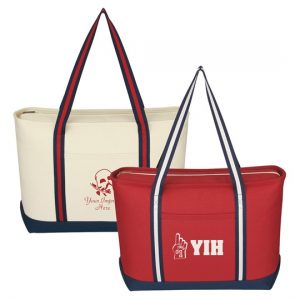 school's name and logo. Fill them with fun products your teachers can use on their days off of school:
Drinkware Appreciation Gifts
Whether they're java junkies or water warriors, your school's teachers will love to receive custom drinkware as fun and functional teacher appreciation gifts. From classic coffee mugs to trendy tumblers, drinkware appreciation gifts will be big hits among the educators at your school. Try these fun drinkware ideas:
Appreciation Tumblers
Fill tumblers with goodies and add tags with appreciation sayings, like these:
Lemonade or other drink mix with a tag that says "Thank You for quenching our thirst for knowledge"
Popcorn with a tag that says "For a POPular Teacher".
Pencils with a tag that says "You've been the WRITE Teacher for us"
Pencils with a tag that says "You've been the WRITE Teacher for us"
And (our favorite) give a Light-up Tumbler filled with goodies and attach a tag that says "You are enLightening"
Appreciation Mugs
Show your teachers your appreciation with classic coffee mugs filled with individual packets of hot chocolate or tea, some coffee pod cups, or gift cards to a local coffee shop.
Appreciation Stadium Cups
Customize stadium cusps with a teacher appreciation message, and fill them up with things teachers can use every day:
Lanyards
Key chains
Small electronics
Phone chargers

Personalized Appreciation Gifts 
Appreciation means more when it's personal. Use our personalized favor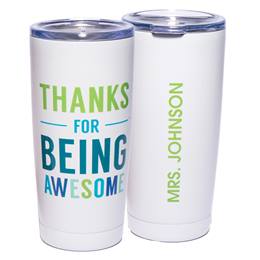 bags to create a personalized gift package for each teacher that includes fun items featuring their names, like personalized lanyards, personalized buttons, personalized tumblers, and personalized wristbands, along with gifts specific to each teacher's personality, style, and hobbies:
Books
Restaurant gift cards
Gourmet chocolates or candy
Fun socks
Specialized coffee or tea
Movie or event passes
Gift cards to a local spa or nail salon
A little appreciation goes a long way, so be sure to thank the dedicated teachers at your school during Teacher Appreciation Week (and every day) for everything they do. Use some of these easy appreciation ideas and add your own ideas to create the perfect gifts to make your teachers feel supported, uplifted, and appreciated.