You can never go wrong with a Hollywood Prom theme. Hollywood themes are timeless, fun, and, versatile. Whether you choose to go old style with a fun 1920s flair or you choose a more modern vibe, you can create the perfect Hollywood Prom theme quickly and easily with these 5 must-haves.
1.) An A-List Invitation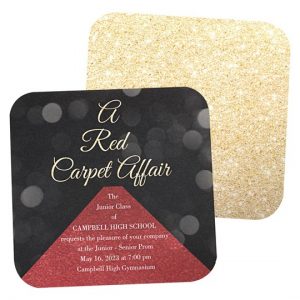 The first thing you need for a spectacular Hollywood Prom theme is an A-list invitation. Your invite will set the tone for the entire event and get everyone super excited for the fun to come. You can send a standard paper invitation decked out in Hollywood style, a budget-friendly e-invitation, or do something creative, like making a short video inviting students to Prom.
2.) A Red Carpet Entrance
A red carpet entrance is a must-have for any Hollywood Prom theme. Set up a spectacular arch, red carpet with roped railings. Get parent volunteers to act as paparazzi by lining the route and snapping photos of Prom goers as they pass. Get a reporter from the student paper to stop each couple for an interview. Post a photographer at the end of the line to snap formal photos as guests make their way inside the room.
3.) Sparkling Party Space and Decor
When it comes to decorating your space, Hollywood-style, you need to go big and go glamorous.Think colors like gold, black, red, and silver, along with glitter accents and tons of stars. Start with a ready-made complete Hollywood theme, and decorate around it using fabric, chandeliers, lights, and metallic sheeting. Another fun idea is to create your own Walk of Fame by writing each Prom guest's name on a large star and attaching the stars to the walls or hanging them from ceilings.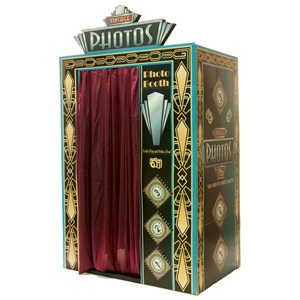 4.) Hollywood Photo Ops
To keep teens excited and engaged, there needs to be more to do at Prom than just dance. Photo props are a great way to keep your Hollywood Prom theme exciting and interactive for Prom guests. Teens love to take selfies (and pictures of each other), so set up interactive photo props around the party space to let them do that. Include things like:
 A photo booth with a background that matches your theme
Dress-up accessories that allow teens to express themselves and be silly
Cardboard stand-ups of famous people for the ultimate photo ops
1920s photo props for an old Hollywood feel
 5.) Trendy Favors
Round out your Hollywood Prom theme with cool favors that match your Hollywood vibe. If your theme is more Old Hollywood, provide fun favors like fedoras for the guys and feather headbands or boas for the girls. If your theme is more modern Hollywood, try custom tumblers with full-color Hollywood backgrounds or fun wearables like sunglasses or T-shirts.
 Take these 5 Hollywood Prom theme ideas and add your own twists to create the perfect fun and memorable theme for your teens.
Give your teens the celebrity treatment with a red carpet Hollywood theme. We have everything you need for your A-list evening. Shop now at andersons.com.