Prom and the Homecoming dance are two of the most amazing and memorable nights of the school year. They are every girl's dream, especially those girls that got nominated for Queen. Make sure your Queen, King, and Court shine the brightest that they can with the perfect royalty items and accessories.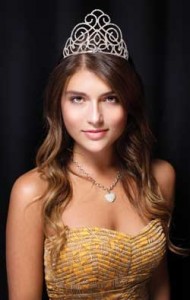 Tiaras are the most exquisite and most popular, royalty item for Prom or Homecoming coronation. Tiaras should be dazzling and match the royal "hierarchy" of your school's court. A Queen should have the most elegant, grand tiara. Princesses can have a tiara that are also elegant but with a more subtle design. And the Court could have simple, but tasteful tiaras.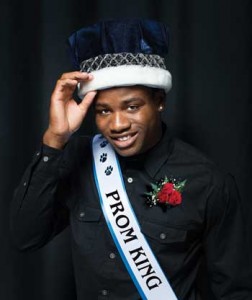 Crowns can make your Prom or Homecoming King shine just as much as your Queen. You can choose a rich, regal color for crowns like purple or red, or match your crowns to your school colors. Between the crown color, silver or gold accents, sequins, and embroidery, there are many options you can choose to create handsome and regal crowns for your King and Princes.
Sashes make great royal accessories for Prom or Homecoming and are also super souvenirs that your King, Queen, and Court can keep from their special night. Coronation sashes come in a variety of colors and lettering options to make your royalty stand out.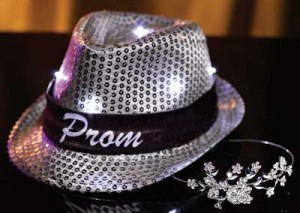 Fedoras are a fun and unique alternative to traditional crowns and tiaras. Some fedoras even light up, giving you one more way to really make your Prom or Homecoming court stand out. And students can reuse the fedoras for costume parties, their Senior Party, and other special events.

Robes can make your royal court look even more regal during Prom or Homecoming coronation. Robes are fancy royalty accessories that can be color-coordinated with crowns or you can choose your school color. You can also choose one color for your Queen, another for your King, and even a third for the your royal Court.
Scepters are elegant accessories that you can hand out to your Prom or Homecoming Queen, King, or Court as each of them is named during your ceremony. There are many different scepter styles to choose from, and they are all amazing ways to add a little more pizzazz to your royalty's regal look.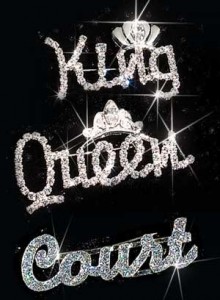 Accessories are dazzling finishing touches that make your Prom or Homecoming King, Queen and Court truly shine. With an assortment of medallions, pins, and jewelry to choose from, you can tailor the finished look for each royalty title.