Silly photo ops are a popular idea that high schools use for Homecoming, Prom, after-Prom parties, Senior All Night Parties, and more! No matter what your school event is, we have lots of unique photo op ideas you can use to add to the excitement and provide your students with memories that will last a lifetime.
1. Handheld Props
Unique handheld Photo Props are available in many themes (Paris, Hollywood, superheroes, etc.) to fit your Prom theme or photo scene. Props are fun, quick ways to stock up for silly photos and require only a minimal amount of assembly.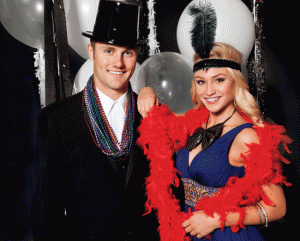 2. Dress Up
Give your students wearable items for their silly photos. Purchase items like hats, glasses, boas, bow ties, beads, masks, and more. Students will love to mix and match these items to create the perfect look.
3. Step and Repeat Backdrops
This unique idea goes perfectly with a Hollywood Prom theme. Set up a Step and Repeat Backdrop at the entrance to Prom and let your students strike their best Hollywood celebrity pose in front of your customized Step and Repeat Backdrop.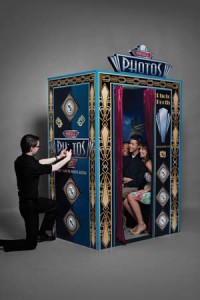 4. Photo Booth
This cool structure provides your students with an old-fashioned Photo Booth! All you have to do is choose the background that will be featured inside the booth. Two or three people can pose inside while a friend takes the photo through the wall!
5. Photo Scenes
Photo scene ops are lifelike scenes that students will love using for silly photos on Prom night (or Homecoming and other school events). From sharks to rollercoasters to hot air balloons, there are plenty of unique scenes to use for your special night. Choose them for their whimsical nature or match your Prom theme!
6. Light Walls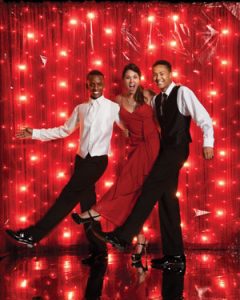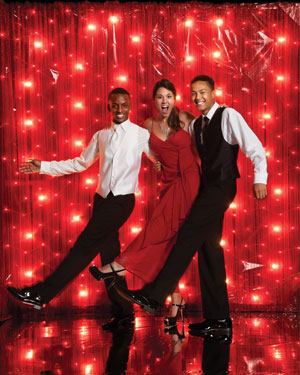 This is a new idea that gives you a simple, yet elegant backdrop for Prom photo ops. We offer a variety of Light Walls that feature different fabrics, effects, and light patterns for a dramatic, elegant look. Students can act silly or pose formally in front of these walls.
7. 360° Selfie Photo Op
Offer your students FOUR photo op stations in ONE structure. Our 360° Selfie Photo Op lets you choose four fun backgrounds for the structure. With a little bit of assembly, you will have four unique backgrounds students can use for silly photo selfies.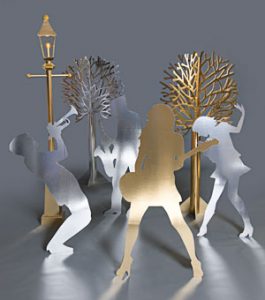 8. Stand-Ups
Give your students something to interact with for silly photo ops with celebrity Stand-Ups. Whether you choose Elvis Presley, Marilyn Monroe, or Charlie Chaplin, students will love the opportunity to pose with a Hollywood legend.
9. Wire Structures
From an Eiffel Tower and casino dice to benches and gates, wire structures are an easy way to set up photo ops. Wire structures require little assembly and set up within minutes. Choose a wire structure that complements your Prom, Homecoming, or after-Prom theme.
10. Curtains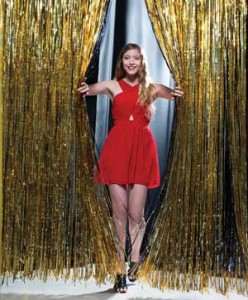 This is a simple, but easy way to provide a quick backdrop for Prom night photo ops. Hang curtains in a doorway, large entryway, or on a drab wall. Curtains make a great backdrop for formal or silly photo ops.
Find all the photo ops you need for your school event. Shop now at andersons.com.