Big. BOLD. Bright.
All three of these words describe the allure of Las Vegas.
Is your school having a Casino themed Prom? Keep these three words in mind as you make important decisions during the planning, purchasing, and decorating for your exciting Las Vegas Prom night!
1. Go BIG for your Vegas Prom theme

In Las Vegas, everything seems to be "supersized" and over-the-top. When choosing your decorations for Prom night, make sure your Vegas decorating ideas are also BIG.
Of course, going "big" is not exclusive to the size of your decorations. Going "over-the-top" can be done in many other ways from your invites to favors to food: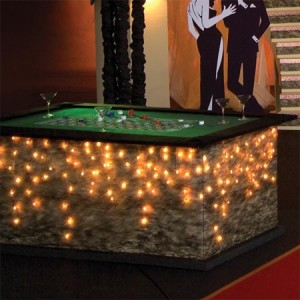 2. Go BOLD with your Vegas Prom theme
Make some bold moves on Prom night with unforgettable decorating and food ideas that students love—and make a statement. Check out our Pinterest board for more bold ideas.

3. Go BRIGHT for your Vegas Prom night.
A Las Vegas Prom theme should have A LOT of lights and bright colors that recreate the vibrancy of the Las Vegas strip or downtown. As you decorate on Prom night, make sure you have all of the following at your disposal to create the Vegas Prom students dream about:
Your Las Vegas Prom night is sure to be a jackpot of a night for your students if you keep Big, Bold, and Bright ideas in mind. From over-the-top invitations to bold lighting effects to bright lights, you will give your students the most memorable Prom ever!
Go BIG, BOLD, and BRIGHT for your casino or Las Vegas Prom theme, and shop andersons.com for everything you need.