Why choose to start a school store?
There are many different reasons why schools start a school store. One of the most popular reasons is wanting a central location where students and community members can go to in order to purchase school spirit products in your school colors. Another reason is to get students (especially student government members) involved with the running of the store and/or giving students the opportunity to learn valuable skills like organization, responsibility, accountability, and general business skills.
What are your initial and long-term goals for a school store?
Once you have made the decision to start a school store, it is important to establish both short-term and long-term goals. Short-term goals can range from getting the word out to students and the community about the store, creating a visually appealing store, or a positive response from students and parents. Long-term goals can be turning a profit, increasing school spirit, and more.
Who will run the store? Who is charge?
Usually parents, teachers, and sometimes student councils, spearhead the starting of a school store, but it is important to know from the beginning who is going to be involved with the day-to-day runnings of your store, and the chain of command. Most of the time, an adult acts as the store supervisor, but the student council fills the other positions: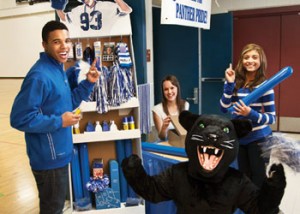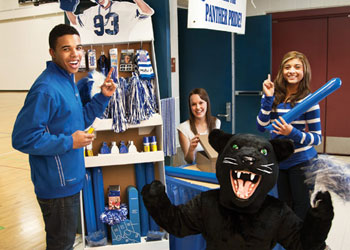 General Manager
Shift Manager(s)
Order Clerk(s)
Receiving Clerk(s)
Advertising Representative(s)
Sales Clerk(s)
Establish who needs to physically be in the store every day and develop a schedule for your school store employees.
How much money do want to make? What are your expectations?
A short-term financial goal is a good start, but you will need to decide how much profit you want your school store to make by the end of the school year. It's difficult to advise how much money a particular school should make; this will vary depending upon the size of your school and community.
What would you like to do with the money you raise from having a school store?
Running a school store is kind of like a fundraiser, but the profits you glean from your school store can have a variety of uses within your school and/or community. Here are a few suggestions:
School spirit items (e.g., mascot costume)
School clubs
Raffle items for carnivals and other school events
Class field trips
Concession machines
Save money for unexpected expenses
What are some guidelines to consider for our school store?
Treat your school store like a real business. Keep records of all inventory and sales
Get to know your customers and their needs. Survey the student body to see what items they want in the store.
To help your budget, offer inexpensive school supplies that are basic necessities such as pencils, notebooks, erasers, etc. You can purchase these types of items in your school colors, without imprints to keep the costs low.
Keep pricing simple, and clear. Mark everything with signs or stickers and try to make the prices easy to work with. ($2.00 instead of $1.89)
Location, location, location. Isn't that what they say in real estate? It can be just as important for school stores. Whether your school shop is a small closet or a cart on wheels, make it accessible to students.
Consider going high-tech! Provide families with the option to buy online.