Where is your Homecoming dance being held this year? Most likely in your school gym or cafeteria – which, one could argue, are easily two of the most boring rooms in the school. But, just because your venue isn't the greatest doesn't mean the dance can't be. With a little help from the right Homecoming decorations, you can quickly and easily transform your dance space from just ok to totally AWESOME.
Life Size Stand Ups and Silhouettes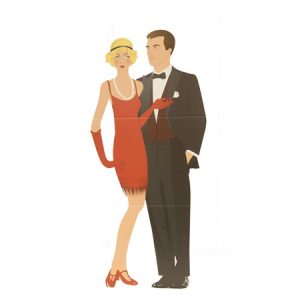 Is your theme looking a little empty? Grab some life size stand ups or cardboard silhouettes to fill in the gaps. Place them strategically around the room to enhance your theme and near refreshment tables, coat check, and restrooms to call out those specific areas. Stand ups also make great photo ops when you include them at the dance's entrance or at a selfie station.
Fun Fabric
Fabric is an easy and effective way to make a BIG impact in your dance space. Fabrics come in lots of textures and patterns; mix and match them to create a one-of-a-kind look. Use fabric to:
Cover tables (add mini lights for drama)
Drape or swoop from ceilings
Create pathways or line hallways
Wrap around columns, pillars, basketball hoops
Background Paper and Murals
Patterned background paper and murals can make a big difference in your theme area by creating the illusion of everything from a tropical beach to a starry night, and they cover large, unsightly areas (like bleachers) quickly and easily. Just secure paper to walls, floors, or even the ceiling to create the exact look you need.
Wire Structures
Need an Eiffel Tower for your Paris theme, a lamppost for your park scene, or an archway for any theme? Try a wire structure. These sturdy wire pieces can be used as either a focal point or as background elements. Use them as they are, or decorate them with lights, fabric, or garland.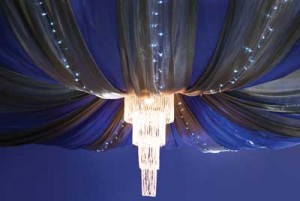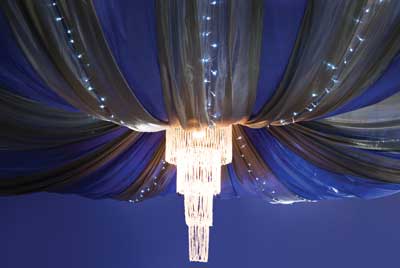 Chandeliers
Nothing transforms a room more dramatically than a stunning chandelier. If your room is large, consider placing a few chandeliers at intervals to create a cohesive look. Don't forget the often-overlooked areas, like hallways, restrooms, and refreshment areas. Livening up these spaces with a fun chandelier is a fun and easy way to carry your theme throughout the entire space.
Don't be intimidated by a hard-to-work with space. With just a few easy Homecoming decorating ideas, you can make any space look awesome for your Homecoming dance.
Need easy ways to decorate your Homecoming dance? We have you covered. Shop now at andersons.com.