Homecoming is right around the corner, so it's time to start thinking about how to decorate your float for the Homecoming parade. In essence, your parade float is a mini dance theme, so decorate it like one. You can choose a ready-made float kit, but if you want to design your own float, follow these 5 easy steps to create the perfect look.
 1) Cover Your Float Bed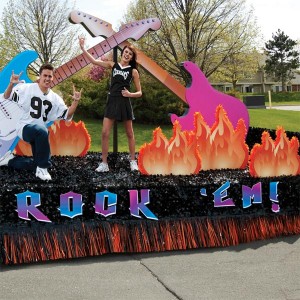 The first thing you want to think about when decorating your parade float is the float bed. If your float is sports-related, you might consider metallic or vinyl sheeting as a fun way to create the look of a playing field. If your float is more theme-oriented, choose background paper or metallic sheeting. Whatever you choose, make sure it matches the look and feel of your float. Here are some other easy float bed decoration ideas:
gossamer or other fabric
rugs or carpet pieces
 2) Decorate Your Parade Float's Edges
Once you have your float bed looking great, you'll want to cover with the edges of the float. Use fun decorations like vinyl or metallic fringe or twist to add interest to this area. Just run it along the edges and secure with duct tape or masking tape.
3) Put up a Float Backdrop
Just like with your Homecoming dance theme, a backdrop can make a huge difference in the way your parade float looks. Choose a simple or elaborate background that matches your theme. Here are some fun backdrop ideas:
solid-color background paper or fabric
printed murals or background illustrations
cardboard silhouettes
painted wood or cardboard
4) Add Your Favorite Float Props
The next step is to add props that match your theme or promote your Homecoming royalty. Use things like arches, thrones, pomps, life size stand ups, chandeliers, and columns to bring your float to life.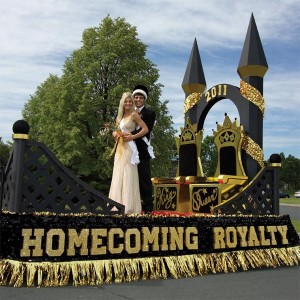 5) Enhance the Look With Float Decorations
At this point, your float will be starting to come together. Just add a few decorations, and you'll be good to go. Easy decorations, like balloons, banners, styro letters, mini lights, and crepe, are simple and effective ways to add the perfect finishing touches.
These 5 easy steps will help you create a fun float for your high school Homecoming parade. Use them as a starting point, and add your own personal touches to create the perfect float for your school.