Homecoming is one of the most memorable events of the high school year, and crowning the King, Queen, and Court is the most exciting part of Homecoming (after the big game, of course). You want coronation to be special for your royalty, as well as for the spectators in the crowd. Here are some quick and easy ways to create a memorable Homecoming coronation.
Announce the Event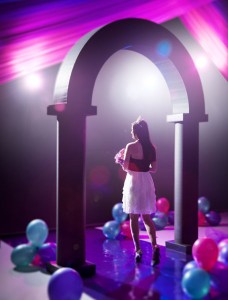 Generate excitement for coronation by putting up banners and signs around the school in the days leading up to the event. On the day of, be sure to have a banner up on stage (or wherever coronation is being held) to signify the importance of the event.
Create a Grand Entrance
Everyone loves to watch the Homecoming Candidates make their grand entrance. Make it memorable by setting up a cool arch for candidates to walk through and get their picture taken, or lay down a red carpet with a "paparazzi" photographer at the end to snap a pic.
 Add a Photo Backdrop
No matter where coronation photos are being taken, you'll want a fun photo backdrop to add interest and drama. Choose a fabric background, like a Pipe and Drape Kit, or a printed backdrop, like a mural, background illustration, or patterned background paper, that matches your theme. If there is time, you can relocate the backdrop to the dance and snap photos of students as they enter.
Enhance the Space With Decorations
For a truly memorable event, details can make all the difference. Be sure to accent the stage (or coronation area) with balloons, fabric, garland, and other decorations to add the perfect finishing touch. Don't forget cool thrones or other seating for your royalty to sit on.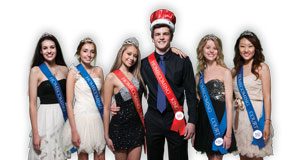 Present the Right Royal Accessories
A memorable Homecoming coronation event includes the right royal royalty accessories. Outfit your King, Queen, and court in amazing Crowns, tiaras, scepters, sashes, and robes to signify their royal status. Unique coronation accessories, like fedoras for the guys or light-up tiaras for the girls will make the event even more special.
Play Cool Music
Set the mood and get candidates and spectators ready for the big moment by playing your school song (the marching band can do this if coronation is at the pep rally or on the playing field, or the band or DJ can do it if coronation is held at the dance) or a song that matches your Homecoming dance theme.
With these easy and fun ideas, you can create the perfect setting for your Homecoming coronation and a memorable event for your Homecoming royalty.
Are you ready to make your Homecoming coronation memorable? We can help with all the royalty accessories you need. Shop now at andersons.com