One of the questions we most often hear from Prom Committees is: How should we decorate for Prom? No worries. We have you covered. With these easy ideas, you can take any space from ordinary to extraordinary and create the perfect look for your high school Prom.
Cover Large Spaces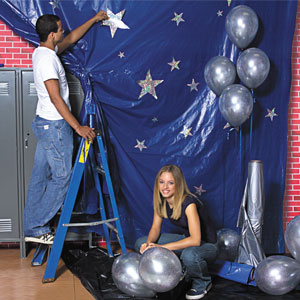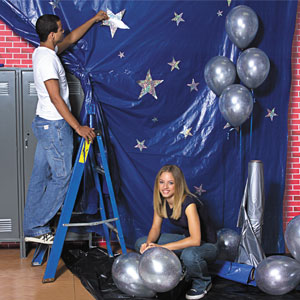 Large spaces, like walls, locker bays, and bleachers can sometimes be tricky to decorate appropriately. The easiest and most effective way to deal with these areas is to cover them completely. Go all out with wall and floor coverings, like murals, background illustrations, patterned paper, light walls, and fabrics. Once covered, large spaces can be used as quick and easy backdrops for Prom photos, too.
Fill Open Spaces
Your complete Prom theme may not take up the entire room. If you have large open spaces (or even small spaces, like corners) you need to fill or just want to add more elements to round out your theme décor, try some of these fun ideas:
Balloons
Life size Stand Ups
Columns
Theme Accent Pieces (trees, lampposts, cardboard cut outs)
Photo Ops
Liven Up Gathering Areas
Prom guests will do most of their socializing in common spaces, so make sure you jazz up seating areas with fun table and chair décor. Cover tables with fabric and line them with mini lights. Then, sprinkle confetti and add a matching centerpiece to complete the look. Use chair sashes, lights, and more to give your chairs a dramatic look.
Enhance Entranceways
The entrance is the first thing teens will see when they arrive at Prom, so you want to make a big impact there. Put up an arch that guests can walk through (also a great photo op spot) and lay a red carpet or lighted pathway on the floor. Depending on your theme, you can also use dramatic pieces, like columns, trees, or cardboard cut outs at the entrance.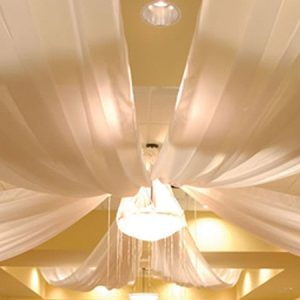 Create Spectacular Ceilings
The easiest way to transform the look of a boring ceiling is with fabric. Either use a ready-made fabric kit, or hang a ceiling ring and create your own fabric look. Enhance the look with hanging décor, like stars, paper lanterns, and mini lights to turn your ceiling into a Prom show stopper.
Prom decorating doesn't have to be daunting. Just follow these easy steps to create the Prom scene of your dreams.
Shop andersons.com now for all your school event decorations!