Prom planning is stressful, especially if you're the Prom Advisor. You feel like you're responsible for everything. Here are 10 easy ways to reduce your anxiety level and actually enjoy planning your school's big event.
1) Start Planning Early
Early planning gives you buffer time in case something goes wrong. If you start early, you'll have plenty of time to correct any issues that may come up.
2) Delegate Duties
You are awesome, but you're not a superhero. You can't do everything, and you aren't expected to. You have a Prom committee and sub-committees. Be ok with them helping and be confident that they will do a fantastic job.
3) Reach Out to Parents and Teachers

Let other people handle the details, so you can focus on the big stuff. Recruit volunteers to chaperone the dance, take tickets, hand out prizes and favors, decorate, and more.
4) Complete Biggest Task(s) First
First thing: Choose a theme and determine the budget. With these two pieces of information in the bag, the rest of the planning will be easy.
5) Use Easy Set-up Decor
Don't make decorating complicated. Choose decorations that are easy to set up, take down, and transport to your Prom venue.
6) Stay Organized
Take notes, use spreadsheets, make lists, and keep information together. You'll have it when you need it and know exactly what is happening and when.
7) Take Advantage of Technology
Social media is the fastest way to communicate. Facebook, Instagram, and your school's website are your friends. Use them to get the word out about Prom and for progress updates.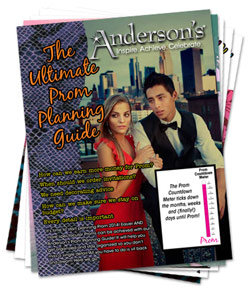 8) Call the Prom Professionals at Anderson's for Help
If you get stuck or feel stressed, Anderson's is here to help. Just give us a call at 1-800-328-9640, and we'll do everything we can to get you what you need and walk you through the planning process. You can also visit our resource page to find all kinds of Prom planning guides.
9) Order Favors and Décor Early
Decide on favors and order early. That way, you'll have plenty of time to reorder if you need to.
10) Be Flexible and Don't Sweat the Small Stuff
Prepare for last-minute changes. Be flexible. The world won't end if you have to use maroon napkins instead of red. Rest assured that, even with maroon napkins, your students will love the event you create for them and will remember the fun they had for the rest of their lives.