Prom is the biggest event of the school year, and you want it to be the best, most memorable, and most spectacular event for your high school students. But, you only have a limited amount of money to make that happen? So, what do you do? With these easy ideas, you can make your Prom décor and favors look like a million bucks without actually spending a million bucks.
Pick Your Priorities
Choose which part of Prom (theme, venue, decorations, favor, entertainment) is most important, and put the majority of your focus – and budget – there. Don't completely neglect other areas; just decide where you want to splurge and where you can afford to cut back a little.
Glam Up Décor and Favors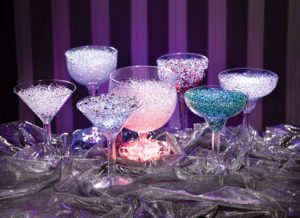 How can you give the impression that you spent a ton of money on glamorous Prom favors when you really didn't? It's all about the accessories. Opt for ordinary décor and favors, and then use a bit of creativity to make them Prom-worthy. Here are some easy ideas to try:
Spray balloons with adhesive and dip them in glitter
Add bling to plain glassware using rhinestones, beads, or glitter
Choose an economy frame favor and add a full-color graphic
Decorate cardboard cut outs with glitter, paint and more (or choose our metallic gold or silver options)
Add water beads and lights to ordinary glassware to create spectacular centerpieces
Order Pre-printed Prom Favors
Much of the expense of Prom favors is the custom imprinting.  Offset the cost of favors by ordering glassware, frames, and more that come ready-to-ship. Then, embellish them with fun accessories, like water beads, candles, glitter, and more.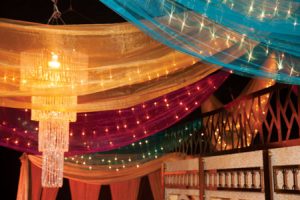 Add Fabric to Anything
Fabric can turn boring spaces and simple props into show stopping Prom decor. There are so many fun fabric options to choose from. Choose your favorites and use them in a variety of ways to add a WOW factor to your party space
Wrap around columns and arches
Drape from ceilings to add drama
Use as table coverings to glam up seating areas
Hang on walls for stunning photo backdrops
You don't have to sacrifice an elegant and memorable event, because there isn't enough money in the budget to give them everything they want. With these easy ideas and little creativity, you can stretch the money you do have to give your teens the Prom of their dreams.