Does your community have a 4th of July celebration? Getting your school involved in the festivities is a great way for your school to engage with the community, show school spirit and American pride, and maybe raise a little money for your school. Here are 5 fun and easy ways to get your school involved with your community's July 4th celebration and to show your school patriotic pride.
1. Create a Patriotic Parade Float
If your community has a 4th of July parade every year, be sure to get your school involved. Choose a complete patriotic parade float kit (more ideas at paradefloatsuppliesnow.com) or create your own using float supplies, like floral sheeting, festooning, fringe, and cardboard cut outs. Recruit students, teachers, and parents to ride on the float and toss out fun school spirit items, like beads, sunglasses, and sport balls.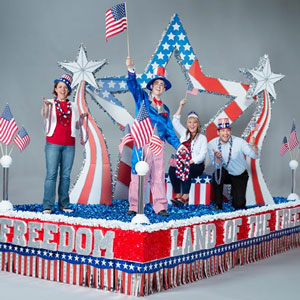 2. Put on a Concert to Show School Patriotic Pride
Get your school involved in the entertainment for your community 4th of July celebration by putting on a patriotic concert. Have your school choirs sing popular songs, like "America the Beautiful," "America" ("My Country 'Tis of Thee"), and "Yankee Doodle Dandy." Have your school band on hand to play classics, like "Battle Hymn of the Republic" and the "Star Spangled Banner."
3. Set up A School Fundraiser
Set up a booth at your community 4th of July event and sell custom school spirit items that feature your school name, logo, or mascot (or get them in patriotic colors of red, white, and blue). It's a great way to show school patriotic pride and team spirit and raise money for your school, too. Consider selling items like these:
Apparel (T-shirts, bandannas, hats)
Water Bottles
Accessories (sunglasses, beads, sport balls, wristbands, umbrellas)
Bumper Stickers and Car Magnets
4. Sell Concessions
Concession equipment isn't just for game days. It's also ideal for school fundraising. Pull out your concession supplies and make some extra money for your school by selling tasty treats to members of the community. Offer classic carnival fare, like snow cones, popcorn, nachos, hot dogs, and cotton candy, and be sure to create a banner or sign to let everyone know that the money is going to help your school.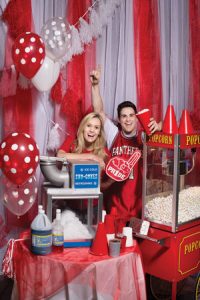 5. Host a Dance
Host a dance at your school or in the parking lot if the weather is nice, and invite the community to attend. It's a great way for community members to get to know your students and school. Be sure to decorate in patriotic style with red, white, and blue decorations, and hand out red, white, and blue favors to all attendees.
Show your school's patriotic spirit with these fun and easy ideas that will keep your students, teachers, and staff active and engaged in your community.
Inspired by these ideas? Find them all and more at andersons.com