It's never too early to think about custom school spirit wear for the upcoming school year. School spirit wearables that feature your school name, school colors, or mascot are must-haves for your school store, Homecoming Spirit Week, game day concession stands, and school fundraisers. So wear your school pride in style and stock up on fun spirit gear. Here are the essentials you'll need.
Custom School Spirit Wear: T-shirts and Apparel
Every high school needs a selection of T-shirts and custom school spirit wear to promote school pride. Whether you sell them in your school store or use them to fundraise for your school, you'll want a variety of shirt styles – short sleeve, classic, long sleeve, tank tops – so you'll have options for everyone. Be sure to order shirts in your school colors and get them custom imprinted with your school name or mascot to make it easy to display school pride all year long.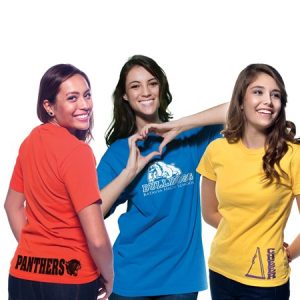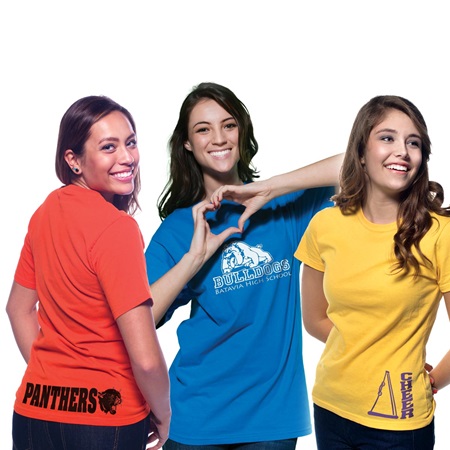 Custom School Spirit Wear: Knitwear
For schools in colder climates, stocking your school store, concession stands, and booster booths with custom knitwear is a great way to heat up school spirit. Just like custom T-shirts, knitwear also makes a fun school fundraiser, especially when you customize it with your school name, school colors, mascot, or logo. Stock up a variety of custom knitwear items, like:
Mittens and Gloves
Scarves
Hats
Ear Bands
Sweatshirts
Custom School Spirit Wear: Accessories
Smaller items are inexpensive and easy to stock in your school store, concession stands, and even your school office, and they promote just as much school spirit as larger items. You can create custom EyeBlacks and Temporary Tattoos for game days; add your school name to wristbands, head bands, hats, and sunglasses; and get beads, crazy hair, and jewelry in your school colors. Students, teachers, and staff will love wearing custom accessories to show their school pride during Spirit Week, on game days, at pep rallies, and during school events.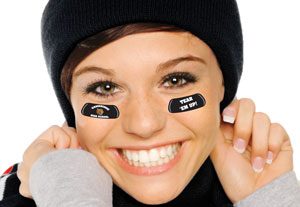 Promoting  school pride at your high school is easy with custom imprinted spirit wear that features your school name, colors, and mascot.  Now is the perfect time to get everything you need to show your school spirit next year. Remember, customized and personalized items have longer production times, so be sure to order early, so you'll be stocked up and ready to go when school starts.
Need spirit gear for your school? Shop andersons.com now for everything you need!