Now that Prom is over, what do you do with all the decorations and props you purchased for the big event? If you store and care for them correctly, you can reuse Prom decorations for other events throughout the year – which makes them great investments for your school. Here are a few quick and easy ways you can use your Prom decorations over again to get the most value for your money.
Reuse Prom Decorations For Your Homecoming Dance
Your Homecoming dance theme probably won't be the same as (or even similar to) your Prom theme, but that doesn't mean you can't reuse some of the same décor for both events. If you had arches or columns as part of your Prom theme, repurpose them for Homecoming by adding accents, like fabric, lights, glitter, and balloons, in your team colors or dance theme colors. You'll get instant Homecoming theme decorations in no time and for very little cost.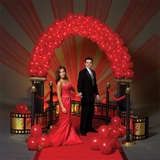 Reuse Prom Decorations For Your Parade Float
Another great way to reuse your Prom decorations is on your Homecoming (or any other) parade float. You may need to purchase things like floral sheeting, fringe, and styro letters especially for your float, but all the accent pieces and props can come from leftover Prom decorations. Items like these make great additions to a parade float:
Reuse Prom Decorations For Theater Productions
Theater props are often hard to come by, so donate all your leftover Prom theme props and décor to the drama department at your school. Consider giving them things like:
Scenery Props (trees, bushes, floral garlands)
Benches
Fabric Backdrops
Reuse Prom Decorations As Spirit Week Decor
There may not be money in the budget for special Spirit Week decorations. No worries; your Prom decorations will come to the rescue. Use the arch from your Prom theme as an entrance for your football players and cheerleaders to run through. And the bench from your garden Prom theme will make a perfect throne for your Homecoming royalty. Use a balloon column in your school colors as an accent piece, and you'll be set for Sprit Week festivities.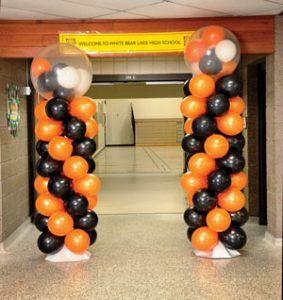 Purchasing new décor for all your school events can be expensive, especially if you use decorations only once. By reusing decorations from one event to another, you can save money, time, and effort, and creatively design extra-special events your students will love to attend.
Like these ideas? Shop for all your event needs at andersons.com