You want your Homecoming float to stand out from the crowd, both for the people riding on it and for the spectators along the parade route. Here are five easy and fun ways to create a memorable Homecoming float.
 1) Choose a Complete Float Theme
One way to create a memorable Homecoming float is to make a cohesive statement with it. Instead of throwing a float together with a variety of props and decorations, use a complete float theme that includes all the coordinating pieces you need to create a unified look. With a complete theme, your float will be easier to set up, and spectators will love how polished and professional your float looks.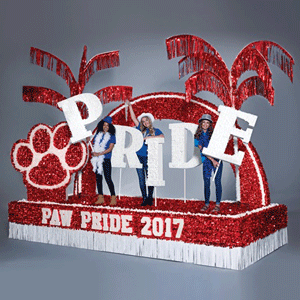 2) Make it Memorable With Lights
Lighting makes a world of difference when decorating for your dance theme or other events, and the same is true for your parade floats. Add lights anywhere you can to create a unique and distinctive look. Mini lights, tape lights, and special effects lighting all work great to enhance parade floats.
3) Add Some Sparkle and Shine
When it comes to creating a memorable Homecoming float, the more sparkle and shine the better. Make your float stand out from the crowd by using fun decorations and props that shimmer and shine in the light. Add glitter to props, like arches and columns, drape glitter fabric from royalty thrones or other seating, add metallic silhouettes as fun props, and glam up your royalty with radiant rhinestone tiaras, glittering crowns, and sparkling scepters.
4) Show Off Your Royalty
Make your Homecoming float memorable by including your Homecoming royalty. Whether you feature them on the float itself or have them ride in the vehicle pulling the float, be sure to give them a place of honor, and call them out with a banner or other sign that features their names and titles.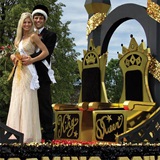 5) Make a Memorable Homecoming Float With Your Mascot
Be sure to have your school mascot on hand, either riding on your float or walking beside it, to pump up the crowd and get everyone excited for the upcoming game. Keeping the crowd engaged and interacting with your mascot is a great way to help your float and your school stick out in their minds.
Use these five easy ideas – and add your own – to create a one-of-a-kind float that will stand out from the others during your Homecoming or community parade.
Like these ideas? Get everything you need for your Homecoming float at andersons.com